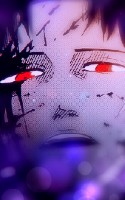 Active Member

He leaned against the railing of the ship, it's deck covered in random sheets of ice that had formed stalagmites undoubtedly throughout the night. The coastline of Water Country was still easily visible as the boat lurched with the surf, Kyourin unphased by the tossing and turning having earned sea legs long before his land ones. Still he doubted he would be returning to these lands ever again with the treasures of the Clawe sealed or taken by himself, there would be no reason to return to this ancestral home turned frozen hell. Though as he imagined the one way he would return, his hand reached up touching a wooden effigy of a bear carved in bone that hung across his neck on a twine necklace. There was a lot of faith placed into the necklace as Kyourin had given up pain to attain it's power fully as there would be a visible wound along his ribcage that had obviously been healed with chakra as a discolored marking now shown were the wound had been. To what caused such an injury would remain a piece of his memory for now..

Closing his eyes momentarily, what felt like ages would pass in the span of three seconds before he was disturbed by a sudden weight along his hand. The feeling of claws was undeniable as his eyes creaked open to the sight of a pure white owl, a fitting messenger for this part of the world. Though he questioned how someone knew to find him here of all places as he retrieved a small envelope attached to it's leg. He'd read through the message contained within as a small slightly unfocused picture also was included.
"Hmm....just a kid. What trouble could you have stirred up I wonder..."
, he'd say before placing a palm along the birds head, petting it....
"Crater City it is..."

[Run Time: 1 hour (60 minutes)]
[WC: 312]