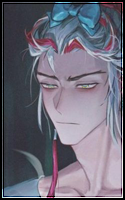 Well-Known Member

A patch of dirt was placed back in the compound box.
"That should cover it.."
he sat on the ground, on his knees, and placing a glove out he wiped the sweat off his forehead. His hairs were tied up and his sennin cloak was on the chair by a stack of papers. He gained a smile on his face, today was a day he felt good and genuine.
"Alright..."
He would walk off to grab a few chalkboard pins and wrote on them.
"I just need to mark them... so that I know what where and when..."
He would nod towards himself and grin.
"After that, it's tea time... I have some amazing time done..."
He double-checked the herb that he picked for tea... as he knew he would possibly freckle this up easily. But after triple checking it, it was mint leaves he had.
"Imagine if I did freckle up... What would Keiji say..."
That was the moment he caught himself on the fact that he thought again of him.
"And... Hikaru..."
he shook his head.
Outside, when he finally had his tea, he started to smoke and sat outside the garden, the rays of sun hit his skin and it felt warm.
"Such a lovely day today..."
The sennin spoke and held his eyes closed. He had a day off from the paperwork in the Byion, and he felt like relaxing and reminding him of the older times when he was around his herbal garden.
[Open topic]