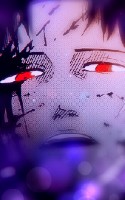 Active Member


There were many qualities that one must have when hunting prey, though of them all the ability to garner patience and silently stalk your target were traits that the Katai held dear. Resting in the underbrush of the woods, his body hidden among the shrubs and flora while both pupils of his icy gaze rested upon a grazing deer. One would be foolish to assume that his weapon was not already prepared for the kill as held tightly in his grasp was a simple hunting bow, one that had various carvings etched into the wood. It's string was fully drawn back, his knee dug into the ground for support while a single eye rested it's visual gaze straight behind the back of the arrow shaft. The arrowhead was rubbing against the bow's wood and hugged it tightly as the bowstring fought the strength of the male whom had pulled it fully back. He remained in this position for some time, his muscle endurance a testament to his training both as a hunter and as a shinobi. Opposite side of the deer a bird suddenly flew from the brush into the trees, catching the animal's attention from grazing enough for it to raise it's neck and turn an attentive gaze towards the source.

Silence gave way to a sudden disruption of the air as something sliced the wind.

The animal collapsed with the shaft of an arrow embedded deep into it's neck, the barbed ivory bone arrow tip having easily dug through the animal's pelt and into the muscle tissue. While the deer was not dead yet Kanki rose from his hiding spot within the shrubbery and walked over to the animal. He kneeled, placing a palm along the creatures side calmly stroking it's fur as he whispered to it. "Dauði þinn mun fæða mig í nokkurn tíma. Ekkert mun fara til úrgangs.", the words of his whispers followed quickly by a stone knife no bigger than his palm cutting with one motion between the animal's ribs right into it's slow beating heart ensuring it's life was dispatched quickly. His bow which was on his back was set aside as he began the task of harvesting what was needed from the animal. A leather bound bundle was unrolled revealing various tools, none of which were made of metal but all being handcrafted from stone and bone.

"This should keep me fed for some time..."