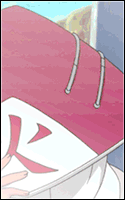 Hokage Advisor

Takeshi had arrived a few hours ago into the land of fire. It didn't seem that long for a journey, but the peace that the group had to maintain to make it quick was something on the brutal side of life. It was quick and relentless and only those that where strong would have kept up, but the group of Leaf Shinobi had arrived finally, the dragon tooth pass was approaching view for those that travelled together, the familiar site and one that had always had a recent voice of distaste with interactions here. This was why he was here himself, after all any leaf messenger sent before seemed to have had a bad time trying to get in.
Bringing his hands up he allowed them to combine into a few of the well known gestures that he had created himself. A puff of smoke around him as he walked out of it, removed where the Anbu robes and masks and not he stood in the traditional leaf Shinobi armour, the white cape trailing from his shoulders as the hat sat proud on top of the Fourth Hokage's head. Stepping to the gates he allowed his voice to travel across the distance to make sure he was heard.
"I am Uchiha Takeshi, Lord Forth of the Village Hidden in the Leaves. I have come to request an ordinance with your Raikage."
Now it was a waiting game to see how this interaction would go down between the two parties. After recent ones it seemed that anything was possible.
[Topic Entered]
[CRPJ: Hokage Robe Summon used]