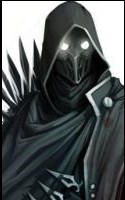 Well-Known Member

Around Sousuke's workshop in the Journeyhall walked about a singular metal clone, or it seemed to be the case. The singular metallic figure looked left and then right before closing the door. For a metal clone this seemed to be far too animate, far too self aware, and seemingly intent on doing something. The metallic skeleton walked forward and glowed a bright blue for a moment. The chakra being conjured seemed very healthy. Anyone who had known the Steward for a long time knew that whenever he was using chakra that it looked sickly and weakened. Despite the appearance, Sousuke was very capable of creating high powered ninjutsus and genjutsus. He was able to mesh his chakra with his weaponry to deliver devastating blows.

The metallic skeleton which glowed blue walked towards a particular forge. The metallic skeleton placed his fingertips on the machine and powered it. The sounds of hammering could be hear as the devices worked and worked. A singular block appeared. It was flesh coloured and seemed to be almost liquid like. The block was acquired and was being worked on. The metallic digits cut through the block and was working on what first seemed to be like an oval. The more and the more it was being worked on that oval shape disappeared. It was turning into a mask of a human face. The features were being toyed with and various expressions showed up on the face. Smiles were easiest. Frowns were hardest. It was easier to smile than it was to frown. The Lord Steward was not known for his smiles, or any expression really. He was known for being expressionless. He had perfected this. The more and more the masked was being worked on the more it began to look like the fact of the Steward. The labourer of this mask was indeed the Lord Steward. It had been twenty-four days since the 'accident' He was not far more machine than he was flesh. He still wore armours to cover up his nakedness. The Steward had been given perspective of layers.

In public he wore a far thicker suit of armour. He had been wearing armour for far too long for the past weeks. People didn't question it. They knew it would be awkward to see him without his armour. Eventually a dinner party would take place soon, and he would have to have a flesh-face. He considered the notion people might stay away from him or see him as something else now. They knew he had metallic parts, but now it was far more. Too much in fact. Fear grasped the Lord Steward. It was something that did not grasp him often, but here it was.

Sousuke was also fearful. He considered visiting Yume and trying to start things over now. Things had settled down and for the time being Shouki had been dead for a long time. He loved Yume, but he had to let her go. It was for her own safety. Shouki was a mass murdering psychopath. Sousuke had participated in his death twice. Things were bound to happen for a third time. Yet things did not come to pass. He considered this a sign of sorts. On the other hand he was also afraid of Okibi returning and finding him in this state. He also had Teke to consider as well. It was very difficult being the Steward.

Sousuke looked down at his work, and found himself staring down at his flesh mask. There were no eyes, but there were those sharp features. Avian almost. Katsuo didn't know, neither did Roku. They did not know that the soul was in the machine.