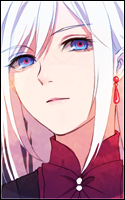 Well-Known Member
Thread Continued From Here!


|

Spoken Text

|

Spoken Text

|

The two figures would stand parallel against one another; they didn't particularly stand out due to the vast majority of Arcadians possessing a wide assortment of various shades of hair. Never the least they were not to be under estimated, their matching gaze settling upon the building before them. Each was worth a fortune, but unfortunately fortified to the extent that a mere blow to the structure would not yield any particular benefits.



"This is getting us absolutely no where!"

the first would begin to complain, his fist angrily slamming into sapphire. The other would calmly turn towards the other, urging for the easing of his anger,

"In due time, for now we must learn more."

he explains, eyes narrowing upon the structure to study it further; veins appearing on the outer layer of flesh.

"See anything?"

the one would call out, clearly not wishing to utilize the everyday item of patience.

"If it took me less than a mere five seconds, then we wouldn't be standing here idly."

the other would calmly reply.

---------
---------

Initial Landing Upon The Isle




|

Spoken Text

|

It hadn't taken too terribly long to navigate towards the sea surrounding the isle, the difficult challenge was crossing over; fortunately they had a ferry providing them service in order to conserve chakra.

"Your first visit to the Isle?"

he inquires while steadying himself upon the docks. The inner city lay within the dense jungles, the cries of animals roared to life and left the impression that traveling alone was certainly not a suggest course of action.

Without saying a word the male would continue forward, having left the oversized feline behind upon the vessel; once out of sight it would poof from the realm and return to its natural location. Before them, however, would be a split path. The right path was through the denser part of the jungle, which the ANBU was confident he could traverse, as it was the quickest route; while on the opposing end of the spectrum was the safer route taking a quite bit longer to traverse.



"Which do you wish to take?"

he asks, attempting to make this more lesson like; this linking back to his latest speak before departing.
​