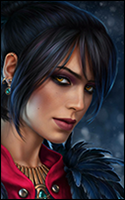 Administrator
Staff member

OC:
Date - this may be either before or after my trip to the gates depending on if I am brought into the village or sent back. If I am let into the village, this takes place before I come to Sand's gates, if I am just allowed to leave then this would take place after. The timing is relevant in case I am followed. If it is after, then it would make sense that users such as Shin, Roku or Raizo to follow her back to the village.
IC:
Even on a Thursday night, the lower Bazaar was buzzing with activity. Since the death of the
Itō
Kana and her husband, their rambunctious son has been hosting parties night after night in what was an abandoned warehouse in the 'worst' part of town. The ground shook -
utz utz utz
and the scent of cheap beer filled the air. It was thankfully not particularly near Michi's personal homestead, a small two-room structure in the residential portion near Teardrop Oasis. She had made her way to this den of debauchery to quell a nagging interest in a rumor that left her unable to sleep. The rumors were of course numerous and for the most part uninteresting - the
Itō
family was murdered by their only son for the wealth and power that came with their death,
Itō
Ken was blackmailing various residents, shinobi and foreign visitors with threats of telling their loved ones, their peers or simply the media about their 'good times' in
Sinners State
. She could care less what extramarital dalliances went on in Soon's Haven or what illicit potion use someone chose to undertake. These decisions, actions and consequences were irrelevant to her, to the greater picture and were already known and documented. She was well aware of their affairs, their weakness of heart, endurance or their penchant for making animal sounds while making love to their secretary.
No, she was more interested in what these parties were hiding. If they were hiding anything at all. It was not even a rumor, but rather a nagging belief that the Oracle had and it was the reason she was sitting there, perched on the corner of the a roof across from Sinner's State. She would watch the scantily clad teens, tweens pretending to be teens and adults
also
pretending to be teens enter and leave the warehouse in various levels of intoxication. Some hanging off a familiar friend and some leaving with a
new friend
. There had been rumors in other parts of the city that a small, still unnamed organization was forming that had an obsession with
destruction.
The formation of something new always piqued the woman's interest,even if it was something that has been done before. Just another Jashinist reawakening she thought foolishly to herself. Still, she understood the effect Jashinism had on people and she knew the inherent dangers in the obsession of Jashin zealots. Further, the rumors were darker than that and she knew it. Small gatherings of hooded figures, old imagery that predates even the archaic eras she was most familiar with suggested the resurgence of an old religion, one that was perhaps even older than Jashinism. [Note: if this happened before she went to Sand's gates, she thinks this is most likely reflavored Jashinism. If this is after the gates, she knows that this is definitely not Jashinism.]
Michi did not fit the lolita aesthetic of the party-goers, nor did she have any intention of blending in. She was dressed simply, more like a street urchin than an Oracle even. The only mark of status she wore was a silver necklace that bore the Oracle symbol tucked into her shirt, the piece was rather old and the imagery was not in common use in the modern day. It was a relic she had kept for herself in an uncharacteristically vain moment from Babylos. Besides this, she wore shades of brown, rough burlap-like material that appeared hand stitched with frayed edges. She was barefoot and her arms and lower legs were exposed. Sand shaded her face unnaturally and her long, white hair was pulled from her face and twisted into a long braid that met almost her waist. She looked more like a witch ready to cast a spell than a woman seeking to discover the mysteries of Soons Haven.
Of course, of all the demons she could see in all the world, she had to see
this one
.
Akkuma.
Note:
Akkuma, it is up to you if you choose to notice her or not. Feel free to traumatize me since this is your sort of party.
Last edited: