[ T H E . B O A R S . G O T . L O O S E ! ]​
---
The young Yamanaka child was given a mission handed to him by his father. A sheet of paper poorly written that described an even that happened a few days ago. Apparently, some farmer's gate was broken by fallen branches and some pigs got out. Why was this a mission for a Shinobi? The child folded up the paper and placed it into the pockets of his shorts before giving his father a half-assed two finger salute. Turning to his room he needed change, if he were to take this seriously at least. Letting out a sigh the blonde child put on a casual outfit, a simple hoodie and overalls. A quick wrap for his tools and he was set to go. Leaving the house he wouldn't say goodbye to his parents as he honestly didn't care.
Taking a quick little trek to the outskirts of the village he could see the damaged fencing getting repaired by the old man; he must have been the client. Giving him a quick waive Shusuke would make his way down the side road before casually hopping the fence and making his way to the path left by the boars. Taking a moment to look at the scuff marks and the imprints into the soil he would take count of the number of boars. It looks like three to five, which shouldn't be bad. They were just a few pigs after all. Welp, it was time to get a little serious. Shifting his mind from thinking how dumb this mission was to thinking this was important.
Phantosmia
... The projection of his mind began to expand to everything around him. A sweet scent would begin to dance in the breeze. Subtle hints of bergamot, a sweet orange, and peppermint would push away from him. Pulling his blade from his sheath he would be at the ready.
Striding forward the pulses of chakra would be emitted from the genjutsuist as he would try and pick up the mind of anything around him. Soft pings of life were picked up, birds, mice, and other small creatures were living in this section of the forest which was to be expected. Time passed and the child continued to follow the trail left behind by the boars. and a few hours of darting like through the woods he would come to a clearing and to his objective. Four large boars were rooting in this clearing and were actively upturning small trees and shrubs. While Shusuke didn't understand animals that much he knew one thing, they all had a mind.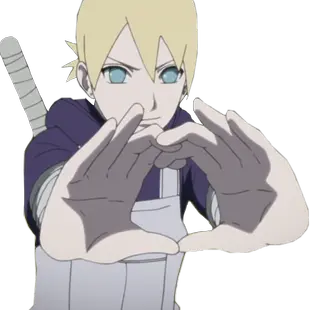 Taking a moment to gather the required chakra it was time for Shusuke to finish this mission with ease. A few handseals and the boy would extend his arms with his thumb, index and middle fingers all touching. He lined up a
Ninja Art: Mind Body Disturbance
. His eyes rolled back and everything went dark. They boy's body took a step back as he sent a large portion of his consciousness to one of the boars. His sight was doubled. He could see through his eyes and through the eyes of the boar. They weren't aware of his location. A grin took to his face. This was probably going to drain most of his chakra. He wasn't built for one versus many. Hell, honestly he wasn't built for direct combat thanks to his Yamanaka blood. Regardless he would begin weaving the minds of the targets into the fabric of his control.
A few moments passed as the boy began to weave multiple genjutsu at the targets. Deafness to make them unaware of the boy's presence, Lethargy to slow their reaction time, Drunken Stupor to make their balance off kilter... A bead of sweat came down the boy's brow as the Boars were starting to waiver and were on the edge of passing out. Shusuke needed them to follow him, He had to bring them back and if he dropped them, it wouldn't be possible. Time to bring them in. Shusuke would approach slowly and take a rope that he had. He slowly tied it around the boars' necks and used it as a lead. Taking slow steps and concentrating on his genjutsu he could feel his chakra diminishing. He doesn't want these boars to break from his illusion because if they did he would not have the reserves to fend all four of them off.
It felt like the way back was significantly longer than the path he took to find the boars, but that was because he was walking and concentrating on multiple genjutsu to keep these boars calm. As he approached the farm he could see that same old man who at this point finished repairing the fence around his property. Niceties were exchanged and so were the reigns being used to lead the boars. Finally, Shusuke was able to head home as his mission was complete.
[WC:833]