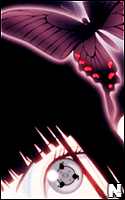 New Member


Kana found a sort of solace and peace within the ruins of the city. A place most cared not to go. Now, mostly deviants made their home here. Something she didn't care much to face if that's what it came down to. Though most of the scum would scurry when they saw someone dressed in full sand regalia with her headband shining bright. Years and nearly all of her money had been spent into research. A complete sink into this new transformation she hoped to achieve. In truth, it was Juri, an older Kunoichi, who gave her the ability to push so hard into caring for the future. Though she was now filled with a renewed vigor that the young kunoichi never had before. Months had been spent recovering her eye sight and basic function of her muscles. Minutes ticked by like hours as she lie there with no ability to live within this world. It was trapped inside her own mind that she found this new and strengthened motivation. A feeling and a knowledge that she could be the best at something. The very best shinobi the world has ever seen. A true blend of finesse and power.
Finally Kana would find what she was looking for. A building in complete disrepair and a likely location that no-one would care if she made a mess of her surroundings. It was time to begin putting forth all of her might into training her new found abilities. First the young girl would do a proper stretch and loosen the garb she wore, the plan was to build up a good sweat. Turning her head from left and right would cause her shoulder length black hair to swing from side to side with each graceful turn. Then she would extend her torso to each side before thinking that she was ready. Closing her eyes, she inhaled deeply, filling her lungs to capacity. Then she would exhale and open her eyes. The turning kaleidoscope of red and black swirls no longer appeared but a new mixture never before seen to the shinobi world. Her temples strained and her eyes turned white, though tomoes from her sharingan spun around the center. A stance that seemed animalistic in nature caused her limbs to thin out. A basic training sword made of stone would be pulled from her bag as she went full force.
The rubble and vacant standing structures stood no chance against the might of her attacks. Though it seemed there would be no stopping her as causing debris simply gave her more targets to hit mid-air.
Swift would be an understatement as she nearly flew into every blow. It was the first time Kana got to experience her new power and it was still only a taste, but she craved more. Time would stand still for the girl as she lost herself in this moment. She was so focused on the battle before her and a concentration on how to learn the best way to maximize her new perspective of the world. For the first time in what felt like forever Kana was allowing joy into her heart. A joy that can only come from the thrill of battle.
Last edited: