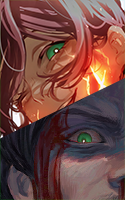 Active Member

Continued from: Dreadnought [ANBU Mission]

The chill still ran through Kaji Okada's bones. The sensation remained despite being so many leagues away from the frigid domain where his recon team encountered the Dreadnought. Somehow, that fortress-at-sea created an aura colder than the highest peaks of Momento Deo. It must have been magical in nature, or so Kaji considered. It left him chilled and with teeth chattering despite being in the warmth of the village's heart underground. Only hours had passed since that encounter, and the team made a beeline back to the Hidden Cloud from Port Cirrus via railway.

Since returning, Kaji recommended the team disperse for two hours to venture home. It was a time for putting on new attire free of damage and bloodstains. Time for a short rest, and to put some warm food in their bellies before what might have become a night full of more work. As the survivors of the encounter, they were the heralds of a potential disaster waiting beyond the gulf and had to prepare reports as soon as possible. As their leader, Kaji was first to arrive at the Headquarters within the ANBU facilities, formerly known as the Sennin's Office.

Kaji Okada was sporting another model of uniform, slightly older than the flak jacket he wore during the mission. Underneath the vest was a loose-fitting, hooded wool jacket in steel gray with rolled sleeves. Eelspine was mounted to his back in-sheathe. He even wore a head protector, though it was actually to keep the gauze covering his temple wound from that club bash in-place. His shoulder-length raven blades of hair were bound in a knot above the bandana, with loose strands falling over the crimson fabric. His lower half was adorned in loose-fitting slacks in charcoal and snug combat boots he never planned on breaking in.

He was in the center of the large room, sprawling new and old sea charts on the roundtable, preparing to pinpoint the location of their encounter. Then, he began breaking out history books and scrolls. Kaji's efforts were to gather everything the HQ had on the Water Country's naval history and military, which seemed to be quite limited. With the combination of his squadmates, he'd be better equipped to analyze their experience and prepare a better plan of action to present to their commander, the Raikage.

- Kaji Okada has entered the thread.
- Requesting Ayumu.
- Thread Access Granted to Hoshi, Miraku, and Shu.
- Sileo Tempestas Access granted to Cloud Sennin for Dreadnought threads.