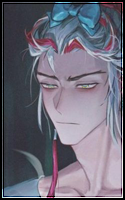 Well-Known Member

The boy was starting to wonder, he had never seen this man yet in his stay here. He still remembered how Kaen took him in as he was Kaens own Flesh and blood, even though he didn't had to. but he took it for granted. Even though that was already a while, he did hear all these amazing stories regards this person from his father. He and Blitz started to walk the stairs where he thought there would be no end to them. "Why do important people life in luxury leg torture..." The boy muttered to himself, maybe towards his canine companion who seemed to have no troubles.
He would, once finally reaching the place, knock on the door. "H-hello?" He questioned and wait and see. He wanted to ask him so many things, he wanted to know who this man was.
ooc: Topic for
Takahashi Sousuke
Sorry that this is so tiny, but I am crappy at starters like this o3o;; next post is bigger I promise you.