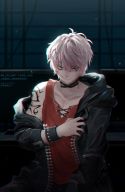 New Member

Tsuki approached the Uchiha Clan House nervously; he didn't really feel welcome to wander around, but this was a point in the right direction. Talking to someone who shared a similar trait as him, a personality split for survival...surely she would be able to help. He swallowed his nerves, approaching the guards and requesting to speak to the person who's name was given to him: Rayne. He knew nothing of this person aside from the fact that she used to suffer from the same condition as he currently did.
He was led to a room to wait, and he looked around, rubbing his clothed shoulder nervously. Luckily for him, Tsuki had been the one to awaken in the body this morning and pick out his clothing. He was dressed in a soft white button-up with the sleeves rolled at his elbows. It concealed his religious markings without being too hot for the weather. His gaze shifted to the door when the occupant of the house arrived, and he nodded his head respectfully.
"Hello, I am Tsuki. It's a pleasure to make your acquaintance."
Although it might sound unusually formal to most, this manner of speech was how he addressed all of the higherups in the cult before he left. Tsuki made it a point to be as respectful as possible in order to avoid punishment when he could. He didn't know the ins and outs of Leaf, how the people treated each other, so he wanted to play it safe.
"I have come seeking your guidance in regards to something you once experienced...there is a darker side of myself that lives inside my head."
He took a moment to breathe, calming his nerves once again.
"I know that a lot of people probably experience a darker mindset sometimes but...I can't control what it does when it appears, and I can't recall anything that happens while it is out. I don't know how long ago it started...or how to control it..."
Tsuki speech

Private thread for Uchiha Asuka/Rayne