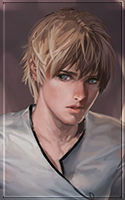 New Member


​
This was an important day for Jirou and Kashikoi since they would be leading a team of genin and academy students to patrol the fringes of the village for bandits. It was a pretty straightforward task, yet one where anything could still go wrong. The village had already started to feel an economic strain from the attacks on merchants and travelers coming into the village. This was not something that could be allowed to continue. The survival of the village depended on merchants and traders being able to enter and leave the village without fear. Jirou took this assignment seriously as he spent the evening before the mission day to read over the files of those who had already signed up. Jirou saw promise in those who had signed up so far and he was curious to see how each of them would fare in the upcoming mission. These were not just kids that he would be guiding. These were young Shinobi who were being charged with helping to make the village safe from bandits. As Jirou closed the last file and set it back down on the desk in his room, he stood up and decided to get his things ready for the upcoming mission. It was already getting late and he wanted to get a good night's rest so that he could be up at dawn and able to arrive at the main gates by seven am.
The next day arrived with a burst of energy and excitement for the upcoming mission. There was no delay as Jirou bounded out of bed and into the shower to get ready. This was a very big day and if Karasu or Hiro were awake they might be able to hear Jirou singing a lively tune in the shower with Kashikoi providing the backup vocals. While Jirou dried himself off and got dressed, Kashikoi trotted outside to water and fertilize the local flora. By the time Kashikoi returned Jirou was dressed, his hair combed and his teeth were brushed. He had double checked his gear and weapons and grinning widely found that he was ready to go. "Come on, Kashikoi. We have a mission to go on." Pulling his backpack on Jirou started down the hallway entering the kitchen where Hiro had prepared a breakfast of rice and eggs. Kashikoi wasted no time in having his breakfast that Hiro placed down on the floor for him afterwards saying to Jirou,
"Good morning lad. Have your breakfast. I have also prepared a lunch to take with you along with some snacks in case you get hungry later on in the day. You will have genin and Academy students to look after. I know that you understand what a big responsibility this is. I remember my first mission as an Academy student. I was very green and literally wet behind the ears. The Jounin leading us had to fish me out of a river I managed to fall into. Please don't tell Karasu. She would find it hard to believe that I had a hard time listening to instructions and liked to charge off on my own. I would never live it down if she knew what I just shared with you."
Jirou grinned and promised he would never say a word.
"What Karasu doesn't know won't hurt us."
Hiro smiled and packed the lunch and snacks into Jirou's pack,
"Have a good mission and be careful. Don't underestimate the enemy. I have full faith that you will handle whatever you encounter with courage and intelligence."
Jirou smiles, wiping his mouth with a cloth napkin.
"This is perfect. Thank you for doing all this. I am going to get going now. I want to get to the main gates early."
Jirou and Kashikoi came up to the main gates right on time. It was seven am and one of the guards had just returned with tea for himself and the other guard keeping watch. After greeting the guards, Jirou showed his identification and the approval for the mission to the guards. The guards made their appropriate notes and nodded, one of the guards adding,
"Bloody nuisance those bandits. They are terrifying the travelers coming into the Leaf. Even heard one of the travelers say that the leader was ten feet tall with a booming voice that commanded snakes. I think he even added that he had tusks like a boar. Though I am not sure just how much Saki that one had before arriving in the Leaf."
Jirou lifted one eyebrow. His curiosity was piqued about this bandit leader as he replied,
"Perhaps we will find out soon enough just how much was Saki and how much was in fact unexaggerated."
The guard nodded watching as Jirou moved away from the guard station to wait for the genin and students to arrive. Jirou was both excited and maybe just a little nervous. He wanted to do well on this mission. Even more importantly he wanted the genin and students to do well. While waiting Jirou thought back to his own days in the Academy and how hard he had worked. All of that hard work had led him to this moment. It would be the same for this new crop of genin and Academy students. Missions tested all those involved and this was to be no different.
[WC: 894]
[TWC: 894/4,000]
[PC: ⅕]
[MFT]
OOC: Must have at least 5 posts minimum and 4K words minimum to get credit. We follow a Post Order and you will have 4 days to post before being skipped. If you need to be skipped please let me know. I am Modding this mission so please pay attention to the story parameters.​
Last edited: