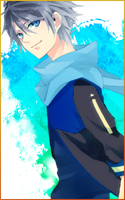 Head Lorekeeper
Staff member



It was strange to receive an invitation to an engagement party. Stranger still when he realized it was not one he was actually adverse to going to. Makoto wasn't quite sure how to deal with that one, or, for that matter, why he had been invited.
Clearly, it's because you get along with the people involved. You have this very odd mental picture of yourself as an asocial recluse that has been demonstrably untrue for quite some time now.
So...you're saying I should go?
An 'audible' sigh. Possibly accompanied by a spiritual wing to the face. Yes. Can you think of any good reason why you shouldn't?
Not...really...
This is like pulling teeth, it declared in a rare expression of frustration. Do you want to go?
Usually, at home, questions like that could be answered with the simple rejoinder of 'do I have a choice?' But here, he didn't really have that luxury. He did have a choice. Which meant he had to think about how he felt. Yes? I think?
Then go, the phoenix said, and refused to speak further on the subject.
It had occurred to Makoto at some juncture on a subconscious level and was only now surfacing into his conscious mind that, as much as he typically preferred to hare off on his own on missions at home and go off and get the whole thing done faster independent of leadership looking over his shoulder, he also liked leaning on the fact that he did not really get to determine what missions he was assigned to or what he had to do. It was...disconcerting, knowing that he wasn't really accustomed to freedom in a way he wasn't entirely sure about. Surely being able to make your own choices was a good thing?

And maybe he had only started doing things for other people because he wasn't really capable of turning down a request for help, simply assuming that if a thing were to be done competently, he must be the one to do it. Therefore, he shouldn't turn anyone down when they needed help.

But wasn't the same 'doormat' behaviour he criticized Saito for?

...Stupid letter and stupid invitation, making him think about these sorts of things.

"Kori and his fiancée sent me an invitation to their engagement party," Makoto told Emiko at the bar the next day. "And...I think they mean it. What, exactly, am I supposed to bring to an engagement party?"

"I am shocked, shocked that you don't go to many parties," Emiko deadpanned while wiping down the bar. "Absolutely astonished. My mind is blown."

He rolled his eyes and leaned back on his stool. "Forget I asked."

She leaned forward, knowing by now not to poke him if she didn't want to deal with the resulting scowl. "From your question, I'm guessing you're planning on going. That's good. They specifically asked me what hotel in Suna you're staying at so they could sent that, you know."

He blinked at her, nonplussed. "I'm actually still working out why they want me there. I was under the impression most people here just saw me as the local trouble-fixer--you know, good to go to when you can't find your children or have an attic full of squirrels, but not someone to hang around socially."

"You are a social idiot," Emiko informed him after her own truly impressive eyeroll. It might have been one for the record books, even. "Sure, maybe initially people hung around you because they knew you'd done nice things for people. But that's because that's a good marker of a nice person."

"I am not a nice person," he said reflexively, but also seriously.

She snorted. "Oh, I get that you're dangerous. You're probably the most dangerous person I've ever had in here. You also barely know what facial expressions are and I rarely hear you alter your tone of voice. But!" She placed both hands on the bar now, rag to one side, and looked at him quite seriously in a way that gave him difficulty maintaining eye contact. "That doesn't make you mean. You usually don't even hit rude--and I know what rude is, I'm a bartender."

He looked away first. It would have been difficult enough listening to that even if she didn't have that expression, like she really meant it.

"I'm not nice," he said finally, focusing on a spot over her shoulder. "I'm awful to my brother, who lately I've been realizing does meet all of my standards, he's just simply too kind for me to respect. I'm not rude to most because it's a waste of energy to make people angry at you for no good reason, and because that's how I've been taught. I've done some pretty terrible things, too. And even more recently, I've been realizing that I might only be helping people because I have difficulty saying no."

Emiko hummed a bit. "Mm. I generally assume most ninja have killed people. Am I wrong?"

He wobbled his hand in front of her in a 'so-so' motion. "Yes and no. I have, yes. Most of those who haven't are rookies or primarily medical support. Even some of those have."

"Then that bit's nothing I didn't already guess. As for the rest of it..." She shrugged. "So you have a complicated relationship with your family and were a lazy teenager. That's not really a big deal."

"I've tortured people, too," he said, because while he didn't personally feel that was worse than killing, many people did. He risked looked back at her, but her expression was still serious and even.

"I kind of assumed that, too. But I doubt you enjoyed it. Did you?"

"No!" That response was so reflexive and vehement Makoto was surprised by his own reaction. "No. Of course not."

"Then don't worry about it." She shrugged again, and went back to polishing the bar. "As to that thing about only helping people because you have difficulty saying no when they ask--that kind of sounds like you just want to help people. Not sure why the moral dilemma."

If he opened his mouth, the weird tangle of thoughts he'd been having about only being compelled to help because he possibly liked taking orders and not having to make major choices about his life would have spilled out, so he just nodded numbly instead.

"And to answer your earlier question, you don't have to bring anything." She gave him a look. "I mean, you can, but they're not expecting anyone to bring much. That's why it's being held here."

Makoto twisted his expression up to show he wasn't satisfied with that answer, really.

"Well don't get them anything you can't afford," she amended. "Most people here can't; it's okay."

"Affording things is not a problem for me," he said dryly.

"Do you get paid a lot, or something?" she asked skeptically.

"My family is rich, so 'or something,'" he said, wondering that that detail hadn't come up before.

"...Yeah that was not something I expected," she said after a minute. "So, why are you a ninja then?"

Family trade, was the reflexive response, if not entirely true. He'd had plenty of other, less dangerous, more lucrative options.

"What else would I do?" he asked instead.

~

On the way in next day, while he was ruminating over what exactly to pick up for the engagement party (which still felt like a very odd train of thought to have at all), he stopped about a block away, sensing something wrong.
Yes, I sense it too. Listen more closely.
He ducked into a side alley that was, for a ninja, within earshot of the bar. Sure enough, there was an argument going on.

"...never been late for a shipment in his life and you know that, okaasan." That was Emiko's voice.

"Patience, child. Midori's not as young as he used to be. He'll be here." The owner of the bar, a kind and matronly older woman. He'd met her a few times.

"He's never been late, let alone this late! Are you sure we shouldn't send someone to go check on him?" That was Sayaka, one of the senior waitresses and a dab hand with electronics.

"It's an important order and I'm sure he won't miss it." The owner again, firm but kind. "He knows we need this delivery in time to set up for the party tomorrow. Hurry on for now; we'll need to open soon."

Makoto leaned onto the stone wall opposite the side of the alley closest to the bar from which he'd been listening and went into deep thought.

It was entirely possible nothing was wrong. The supplier had been late, or delayed, or the drinks had come in a later shipment, or any number of other things. The owner could be right; it was possible Emiko and Sayaka were worried over a perfectly natural delay.

And it was also possible they weren't. Some kinds of alcohol could be quite valuable, and even moving through the cities got significantly less safe if certain people found out you were carrying hundreds in stock...

No one had asked him to look into this. He had no obligation to do anything. He could either just leave and not show up today, or go to the bar and get asked to help, probably. In a roundabout way, most likely, because when it was something that she was personally worried about, Emiko tended not to be that direct.

And no one would know he knew about it ahead of time. He could choose whatever option he wanted. There wouldn't be another soul who would know.

Essentially, he was being given a real choice here. He had the option to be lazy like he would have at one point, assume it would work itself out, and go back to wanderin around and pondering gift ideas. He wasn't at the bar every night, so his absence would not be remarked upon. It would just be another day he wasn't there. Nothing either special or spectacular.

Or he could go in, and be asked to investigate the possibly-nothing. Midori might wander in pushing the shipment while he was there and apologize for the lateness of his suppliers/the business of the streets/the unexpected but funny event he'd encountered.

Or I have a third option.

He was rather fond of those third options. The option here would be to help people without being asked to do so.

The phoenix wasn't saying anything, in a very deliberate, bated breath sort of way.

It honestly wasn't something he was accustomed to--just straight up helping when he heard of there being a problem. Even when he'd done things that seemed like they were going out of their way to help others, like when he'd helped Fumiko. The only time he'd ever done anything like this before was, well, when he'd gone at the sandworm when he hadn't had to.

Not my village, not my problem, his past self would have said. But how far past was that, now? Surely far enough that he oughtn't to be bogged down by the idea of himself as someone who didn't really bother when there was nothing in it for him?

It shouldn't have been something more momentous than charging into battle against a giant undead maneating monstrosity, but it felt so. That had been the unconscious impulse, before. The call to do right by others that he'd felt, but put aside in the moment and never really deliberated on since.

Avoiding deliberating on, if one wanted to be brutally honest.

Yes. Well.

If that was an impulse toward...not heroics, this wasn't really heroism on a real scale, but plain kindess and goodness, was that really something he should fight?

Yes, one part of him said. Even if things like that work here, they do not at home. You've seen the kinds of things that happen in Moon if someone lets things slide, or is too nice, or is too kind. You've seen people get killed over things like giving second chances. Sand might have room for both grand scale heroics and lesser kindnesses, but home does not. You know that.

Wind Country had its dark side too. Of a different nature, of a different way to fight against it, but existing all the same. It was wrong to say that there weren't villains here.

But the people seemed...brighter, somehow, in some ways. For all that Moon seemed practically saturated with people who had holy powers, Wind Country had a lot more people who were, quite simply, uncomplicated. Not even in a bad way, or an 'I don't really know them well enough to say' way, but in a 'I have my life goal, and I will achieve it in a straightforward manner' way.

It was...a lot less shady, than home.

They probably didn't have to deal with not knowing who their enemies were. That probably made it easier. But...

Does that really mean that impulse is something I should fight, though? Or should I just try harder with it? After all, doing good things doesn't mean I need to give endless chances, or be gullible, or give up any of the ways I do things in the first place. It just means I need to be more active about doing things that help people.

Without conscious thought, but this time with conscious approval, he turned on his heel and started toward the area of the docks where shipments came in.

Maybe that sort of brightness, that sort of inner shine, was what most people in Moon lacked. Maybe that was why they'd never bothered to organize to become a real ninja village, instead deciding to hang back and remain solidly neutral. He definitely wouldn't change that policy...

...but there had to be others in Moon who felt that same impulse.

Maybe when he got back he would look for them and meet them.

For now, he had a supplier to track down and potentially rescue to prevent a friend's engagement party from being ruined.