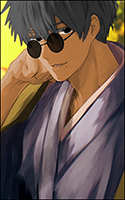 Member


Re: Keiatsu - Hot Head (WIP)
Reckless / Akimichi
Ever watch someone fight and ask yourself, "Is he insane?" In this case, no. But he's pretty damn near it. His style of fighting is undisciplined and unpredictable. He attacks erratically, with little regard for finesse or any sort of coherent strategy. Mako is a VERY physical fighter, and though it suits his personality, its more out of necessity than anything. His poor Chakra Control means that he's unable to use Ninjutsu, and he doesn't have the mental capacity to craft an illusion (or even understand how Genjutsu works...). He isn't the fastest fighter ever. Or the smartest. Or the strongest. Or the- well...you get the point. But what he lacks in other areas, he makes up for with a hidden power and a strong will. One of his most impressive physical traits is his monstrous endurance. Knock him down? And he'll get right back up again. Hell, most of the time he shrugs off preliminary attacks in a battle. Turns out being a rampant ball of energy has its uses in a fight! But he doesn't JUST receive the hurt. Opponents often underestimate him due to his silly techniques, strange methods of fighting, and naive personality. But when someone hurts people for no reason, harms his friends, or even harms their own? Beware.

Part of his physical...'prowess' comes from his extreme adaptability. Even as a child Mako was always one to just "wing-it", leaving the planning and thinking to others. This trait has been carried with him into adolescence, made apparent by the fact that his fighting style is completely improvised. Because of his Ninjutsu incapability and lack of any real Bloodline, Mako has had to come up with innovative ways to keep up with his peers. His simplistic mind helped for once in this regard, allowing him to come up with some creative techniques to aid him in battle. So far he's developed several of his own skills that require unorthodox methods of manipulating chakra and his body.

The origin of his abilities isn't anything spectacular. As a kid he wasn't host to any unique powers. Just a puny runt with no skill in...anything, really. Below average scores at the Academy ensured that he barely passed at all. He was bad with chakra. A little better at fighting, but not much. He carried no genetic traits or Doujutsu that gave him an edge over anyone else. But if there was ONE thing that was spectacular about this boy...it was his strength of will. Past the goofy smiles and hair-brained antics lied an undying will to achieve his dreams. Knock him down five times and he'll stand up six. He possesses an incredible hidden power that one wouldn't expect from someone like him. It was likely this that caused his guardian, Yama, to place Mako in life-threatening situations regularly. The idea was to make him stronger. And apparently it worked! In only a few short years, Mako went from being a stubborn, reckless child to...a stubborn...reckless...child. But all that 'training' paid off! Maybe a little too well, actually. So his strength and stamina might SEEM supernatural, but they were actually gained through effort and sheer force of will.
​
Core Ability Points:
20/20
Bloodlust - 3 points
Precision Blow - 2 points
Zaraki Style - 2 points
Endurance(x3) - 3 points
Huge Power(x3) - 3 points
Double Edge - 3 points
No Limits - 2 points
Brink of Insanity(Mastered) - 2 points
Afinities:
Free Major Affinity:
Earth
Free Minor Affinity:
Non-Elemental
Major Affinities:
Earth
Minor Affinities:
Non-Elemental
,
Fire
,
Metal
BL/CA/Kin Free AE's:
N/A
Equipment:
Slot 1:
Belt Pouch
- Pouch Slot:
Blood Pill
- Pouch Slot:
Health Pill x3
Slot 2:
Belt Pouch
- Pouch Slot:
Explosive Note x5
- Pouch Slot:
Smoke Bomb x3
Slot 3:
Kawarimi Target
Slot 4:
Kawarimi Target
Slot 5:
Kawarimi Target
Bare Hands
Not to be confused with 'Bear Hands', these babies are Mako's pride and joy. They've got him through more scrapes than he can count, and they'll get him through many more. Oh! And he doesn't have to worry about his weapon being 'an extension of his body'....because his weapon IS his body. Convenient, huh?
Type:
Unarmed
Attribute:
Handseals
Modifiers:
+1 Accuracy / -5% Damage
Augments:
Vanguard
,
Steady
,
Free Flow
,
Dual Weapon
Ō-Sesshu
Used by few of those who possess the "A." initial,

Ō-Sesshu

is an ancient technique that functions as a weapon. While not

Holy

in origin, this technique grants a select few of those born with the name of "A." sheer power enough to slay Greater Demons. Mako funnels his unique chakra into a limb, "priming" whichever one he chooses with greater attack power. But more importantly than that...the black markings grant him the power to

drain the chakra of whatever he touches

. Said body part(s) also becomes much more heavy and takes on a consistency that's easily stronger than metal. While a bit slower than his regular old mitts, they're capable of dealing massive damage when used in conjunction with Mako's already formidable Taijutsu skills. Its vampiric nature ensures that he can keep fighting with minimal chakra loss as well. This can be applied to any part of his body. Anyone familiar with Oni no Kuni lore might recognize this weapon as the

Mark of the Devil

(

悪魔の印

, Akuma no Shirushi

).

Type:

Bludgeoning

Attribute:

Suppression

Modifiers:

-1 Accuracy / +5% Damage

Augments: Vanguard

,

Steady

,

Free Flow

,

Dual Weapon
Inventory:
- Vanguard (x2)
Steady (x2)
Free Flow
Trick Weapon
Dual Weapon (x2)
Headset
Light Armor
Class:
Free Spirit
[V]
HP:
(60+lvl) x stamina
CP:
(40+lvl) x chakra control
Class Feature:
Kinjutsu, +5% Damage Reduction
(ASP)
High:
Melee Accuracy
Average:
Evasion, Genjutsu Save, Ninjutsu Accuracy
Low:
Ranged Accuracy, Genjutsu DC
Stats:
ASP: 371
Stamina: 600 / 600
Agility: 600 / 600
Taijutsu: 600 / 600
Ninjutsu: 600 / 600
Genjutsu: 600 / 600
Chakra Control: 600 / 600
Power Level: 3600