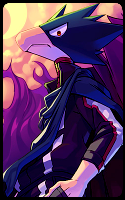 New Member

Name

:

Egawa Yuno

Age

:

15

Sex

:

Male

Gender

:

Male

Physical Description

:

Yuno is an average height young man, standing at about 5'2", or around 158 cm. Naturally thin, even though he is a shinobi he doesn't have much muscle on his body, preferring to stay in the backlines. His hair is a dark brown color, same with his eyes. His skin, while clear, is also incredibly pale due to lack of sunlight. Even though he lives in a dessert his skin cannot handle the sun, so he often covers up. Most people don't know his natural hair color, or his skin tone, due to how much skin he doesn't show.

Casually he'll wear long sleeved shirts, pants, and even cover his hands with black gloves, otherwise he'll burn severely, especially within the Wind Country. When out acting as a shinobi he will cover up further with a long black cloak covering his body, from his shoulders to his shins. Finally, at all times, he wears a strange mask in the shape of a crow, to cover the skin on his head. When asked why a crow, he'll just say he thinks they're neat. The mask is made of black, though fake, feathers and a pastel yellow beak. The thread covering his eyes to protect them from the sun also make his eyes look more red than brown.

Mental Description

:

Growing up, Yuno has always felt the need to please others, this stems from his home life. While his parents aren't bad, they're professional victims, so Yuno has learned to put their needs above his own. While this may seem compassionate or alturistic, he only does it because he can't handle confrontation and tense situations. Because of this need to please others he is shown to be quite amicable, if not weak willed, causing him to get caught up in any sort of problem cause by others. He has a strong sense of right and wrong, but that gets pushed aside by his need to be liked and wanted.

Yuno also struggles with carrying a conversation, unless he feels like he has something to contribute he will be content with just listening. A few things that will get him going in a conversation is music, mostly grunge and screamo, fantasy books, or anything referring to ghosts and the supernatural. He is also often seen napping in the day, not out of laziness but because he is more active at night, joking that he is nocturnal. He spends all his free time at night because the sun isn't out, allowing him to roam around without his skin fully covered.

History/Nara App

:

Life for Yuno has been a pretty cursed one. No, not in the way few others may be cursed in Suna, but with a horrible skin condition that caused him to burn easy in sunlight, to the point where the smallest exposure would cause severe burns. From the time he was a baby to now he was covered head to toe if he had to go anywhere with natural sunlight, to the point where his family had to change their own schedules to become nocturnal so they could spend time with their child without fear of constant hospital visits. This worked for the family somewhat, their mother was the breadwinner of the family and was an acclaimed writer, though this drew a wedge between him and his older brother. His brother, Yosuke, was already feeling neglected, which is common for children who suddenly gain a new sibling, but the family's change in schedule only made that feeling worse.

Yosuke began running with the wrong crowd at a young age, doing everything he could to get attention. Once Yuno was a bit older and could safely go outside during the day, with his body covered, his brother would expose small parts of his body to the sun, causing frequent emergency trips to the hospital. Though it seemed to work initiatlly, the night life began to take its toll on Yuno's parents, and the fighting began. Blaming each other for his condition, which side of the family it came from, who could have done better to prevent this. They even began arguing about Yosuke's change in behavior, which of them stopped giving him enough attention, or which enabled him to start this. Their grasp on their lives and the lives of their children were slipping.

It was due to this chaotic home that Yuno had imagined himself a friend, someone or something he could confide in. Something who would listen to him when he cried about his parent's fighting, or his brother's constant bullying, without feeling like a burden on them. He named this creature Aoge, referencing a black coat of a horse. This creature, however, wasn't really imaginary, but a very early manifestation of his chakra. Since he needed the darkness, the absence of natural light, to function at a basic human level, he became attuned to it. Without consciously controlling shadows began to bend at his will, if he needed something he couldn't reach a shadow would inch it off the shelf, kids who bullied him would fighting their feet stuck to the ground and trip over. His brother was a constant victim of this, and began to realize what was happening.

Yosuke was five years older than Yuno, and his window of opportunity to utilize chakra and join the academy has long since smashed, but Yosuke knew Yuno had it in him. Of course, this did nothing but anger him further. In the dead of night, in Yuno's room with no windows as to protect him from the sun, Yosuke entered. Fueled with jealousy of the attention he receives, envy from his lack of chakra, and just general hatred for how he feels everyday ever since Yuno was born, he planned to kill his brother. Then he and his parents could be a family again, right? They'd stop fighting, go back to being active during the day, and give him the love and attention he deserves. With a knife in hand he took his strike, confident in his ability to kill the child not even in his teens. But Yuno was a light sleeper, he'd normally wake up whenever his door was opened because there was no sun to signify when it was time to wake up, so he watched as his brother walked in with the knife, initially unaware of his intentions.

Once Yosuke raised the knife over him, Yuno understood he was in danger. What Yosuke didn't understand was that the shadows loved Yuno, and its love only grew stronger in the dark. Though he didn't want to hurt his brother, he also didn't want to die, and that sentiment combined with his lack of control cause the shadows around him to lash out at his brother wildly. Their parents were awoken by screams coming from the room, and the scene was even more blood curdling. Yuno lied sat on his bed in the fetal position, obviously traumatized by the thought that his older brother, though a bully, was trying to kill him. Yosuke, however, probably got the worst end of this. The shadows enveloped his arm and devoured it, leaving him a painful, bloody mess on the floor. This certainly got him the attention he needed as they took Yosuke to the hospital. Their parents weren't entirely sure what they could do now, one son was a severely injured delinquent and the other seemed to harbor a monster inside him.

Instead of taking this as a sign to bring their family closer, they became more concerned about how this made them look. Why couldn't they have the normal children, thats what they deserved after working so hard right? These quiet thoughts became loud words, along with the missing arm and angry looks from his brother, Yuno felt responsible. Of course, it wasn't his fault he was born with a terrible disease, but nobody ever told him that. He would work to carve his own life away from his family so that they could become a family again, with or without him if they so wished.

After those events he became more self-sufficient. He enrolled himself into the academy within the village, he began sleeping at night when he needed to, ensured his body was covered when he needed to go out so that his family could be awake during the day once again, and he begun to limit his interactions with his parents so that maybe they would pay more attention to Yosuke. His existence became lonely, he began doing everything he could for other people, even those who hurt him, because he never wanted to be in that situation again, where someone he loves was so angry at him they'd want to kill him. One good thing that came from being in the sun was that birds were active during the day, which began his obsession with birds, and why he got his signature mask in the shape of a type of bird called a "raven" that weren't seen in this climate, but he wants to see one someday.

His academy life consisted mostly of him attempting to control his chakra, and his emotions, so he can prevent himself from lashing out like he once did. Focusing on ninjutsu and somewhat on taijutsu, he couldn't bring himself to tamper with the minds of others. He didn't have many actual friends, most people caught on to the fact that he was a massive pushover. Even if he recognized he was being bullied when he was told to spend his own money to buy food for others. However, he buried those feelings and convinced himself that he was doing a good thing, and one day they will come to appreciate him.

His gennin exam wasn't the hardest trial in the world, but he initially believed he failed. The students were tasked with a scavenger hunt, using what they learned in the academy to find, and often catch, the item they were looking for. These items would be tied onto stray animals that ran when chased, but Yuno's predisposition to stand in the shadows allowed him to catch many of the animals. He only needed one item to pass, but every time he got one he was convinced, easily, to give it to someone else because they were sad they couldn't get an item. By the end of it he had helped half the class pass, but he didn't have an item at the time and was convinced he would need to retake the exam at a later date. However, the proctor and his assistants had kept an eye on the students and witnessed his skill and selfless behavior and offered him the promotion either way. Though they stated they would fail those he had assisted, Yuno begged to let them continue on.

When he returned home and announced his graduation there was no party, there was barely even an acknowledgement. His parents were still scared of him and his strange powers, and his brother both hated and feared him. Yosuke said whenever he looked at Yuno he could feel pain in the arm he lost, as if it was still somewhere, still connected to him. Yuno felt that he could never have the loving family that other kids had, so he continued to work these few years to get out of their hair so they could hopefully move on.​