Fauna of Wind Country</SIZE></B>
<i>
</i>
The arid vistas of Wind Country provide a significantly harsh landscape for inhabitants; water is scarce and, in some places, unattainable by all but the most specialized creatures, the ground and air temperatures vary wildly from noon to nightfall and even the basest nutrients for survival are a precious resource. However, life finds a way; resulting in a spectacular series of hardy creatures, whose ingenuity and strive for survival should give even us pause and provide a source of inspiration. In the following pages, I will attempt to give further detail to these stubborn survivalists and flesh out the bare bones of the more mythical creatures of the Dunes; rarely encountered, but possessing a great impact on the biotope at large.
Legionnaire Ticks​
Arachnid-Type</COLOR>
<i>
</i>​
[col]

The smallest arachnid focused in this bestiary, Legionnaire Ticks are thus for their incredibly rapid reproduction time; a dozen ticks have been known to multiply by an order of ten in a few days. Less a millimeter in length, they increase to a centimeter when fully engorged. These ticks are parasitic, focusing solely on vertebrates they are most often found in thick hair, clothing or bedding where their high turnover rate can result in saturation of a habitat in a very short amount of time.
This species of tick is highly invasive and hard to identify before a massive infestation due to their diminutive size, but they can be killed with bleach and most pesticides. Upholstered furniture can be tricky to sanitize as it is difficult to achieve optimal saturation, often to protect a living quarters from having a near immediate re-infestation, items that cannot be clearly disinfected would have to be burned.
By themselves, the only remarkably facet of the Legionnaire Tick is this rapid reproduction cycle. However, much of the time, wounds caused by Legionnaire Ticks can become infected with the Tick's own parasite, a Bacilli known to be responsible for Crimson Fever; a maddening illness known to cause severe emotional regression and overt tendency towards violence, as well as a red tinge to the thinnest areas of skin and the irises of those infected. While medications against Crimson Fever are available in richer settlements of Wind, more secluded and impoverished villages are more prone to outbreaks of this disease.|
Crimson Fever​

A tick-borne illness, known for the characteristic crimson hue of the infected person's eyes and skin as well as personality-altering facets. This disease attacks the frontal lobe of the brain and alters a person's inhibitions, making them quicker to act often leading to reckless, erratic and even violent behavior. Due to this fact, many victims of this disease have to be restrained and housed in an asylum until the infection and infestation is quelled.

Treatment is rather expensive as it requires a multi-modal care: psychiatry and sedation as well as medication for Crimson Fever and an eradication of the infestation. The poor often find themselves imprisoned for their unruly behavior, contributing to the vermin issues in Wind Country Prisons were this condition is prevalent. Some prison systems provide medical treatment for their prisoners, but due to the lack of medical training misdiagnosis and under-diagnosis are common, mania is a common generic diagnosis. The antibiotic of choice is Rosacillin, a broad spectrum antibiotic that can be taken orally over the course of 2 weeks, costing about as much as the average person makes in a week or IM where a single injection is all that is needed but it costs as much as 2 months wage. The speed of recovery is also dependent on the route of administration, orally it still takes over a week for the symptoms to reside; IM takes about 6 hours to take effect.

Animals have a milder version of this disease process. They can become unruly and aggressive for short periods of time, but they have natural antibodies to fight this infection. For more information regarding Crimson Fever in animals, refer to the Sand Pet Action System (SPAS).
[/col]
A Thanks to Karakaze Kazuki for information concerning this creature.
General Threat Level - Negligible: E Rank
<i>
</i>​
</B></COLOR>

<SIZE size="150">

Cave Crawler

​

<i>
</i>
A nocturnal vermin creature, this insect prefers damp dark caverns and with the introduction of an abundant food source (scraps left by humans), the number of these creatures has increased exponentially over the last few decades. While these creatures pose an infestation risk, they multiply slower than Legionnaire Ticks laying only 20-30 eggs every 4 months.
Despite their large size: 27-35 inches high with a weight of 41-70 pounds, making them as large if not larger in some cases than Hykals, their color and appearance offers them some camouflage. Variable hues of brown to black with a shell-like carapace with patches of fur, many blend with the walls and ceilings, only moving when the lights have been turned out. They are also noted for their crocodile-like head and four spindly legs. While these insects may appear threatening, they are no threat to humans and they prey on other insects, specifically the Legionnaire Ticks and various species of scorpion as well as small mammals. They also find small mammal pets rather tasty.
Mostly considered to be a vermin creature, despite their assistance in keeping other pest population levels down, it is often preferred by most to simply use bug spray than to employ larger vermin. But in poor areas of Wind Country, these creatures are celebrated for their vermin-hunting abilities as well as their apparently succulent meat. While it is considered to be a "dirty" animal by most, this meat is often eaten by the poorest members of society and has been proven to be a safe meat choice but it can be tough and stringy according to most accounts.
A special thanks to Okibi for information concerning this creature.
<B>
General Threat Level - Negligible: E Rank
<i>
</i>​
Of all of the animals found in Wind Country, the Dune Rabbits are perhaps the most tragic. Sole herbivores in a land largely devoid of green plant life, Dune Rabbits manage to survive on a bare minimum of sustenance, which is then immediately utilized in locating further pockets of greenery or reproduction. Likely due to this meager diet, they are significantly less excitable than other leporidae and provide the vast majority of food for carnivorous dune life. Their survival is one of the mysteries of the sands.
However, Dune Rabbits have found a patrician, to some degree, in humanity. Their large ears and short, white to earthen-hued coats have resulted in them becoming a popular pet for Wind Country villagers; easy to keep and utterly docile.
A Thanks to Karakaze Kazuki for information concerning this creature.
General Threat Level - Negligible: E Rank
<i>
</i>​

Some consider spiders to be expert huntsmen, deploying actual tactics and traps in order to appropriate prey that possess subtlety and ingenuity. Despite their simplistic biology, spiders are a paramount example as to the potential complexity that can be employed by even the basest animal. Siren Spiders are an interesting example of this; known to excrete hormones that attract their prey to their webs, they are also capable of producing cicada-like calls that apparently boost this ability. As a result, they are highly successful and rather numerous, but generally confined to human settlements where their prey, winged insects such as flies, are found in higher numbers. Barely three inches in diameter, some individuals cultivate Siren Spiders in order to keep fly populations under control, as they are of no danger to humans and are somewhat of a curiosity.
A Thanks to Karakaze Kazuki for information concerning this creature.
General Threat Level - Negligible: E Rank
<i>
</i>​
[col]

These are small palm-sized creatures that live underground. While they are considered to be arachnids, their appearance most closely resembles that of a small flat Sandworm. These creatures have no actual biological relation to Sandworms but they do depend on Sandworms for their very survival. Sand Tribbles subsist on the Carmot believed to be excreted from Sandworms as well as whatever water they can some across in the arid terrain.
Some Carmot hunters use Sand Tribbles to find Carmot. Since Sand Tribbles fare poorly in captivity because they require Carmot (a very expensive resource) for sustenance. For the most part harmless, those that can afford to feed a Tribble will find a life-long friend. They are considered friendly and loyal to anyone who does feed them.
Sand Tribbles burrow underground quickly but make a
"zziippping"
sound as they vibrate through the earth so they can be easily followed. They offer little to no nutritional benefit so they have no natural predators. Once they find a boulder of Carmot they will start licking it. Their saliva melts the crystal structure of the Carmot into something that they can suck up. A Sand Tribble eats 20 grams of Carmot in a single day. Once a Tribble finds a Carmot source they will not leave it until it has been consumed but they will only eat their fill for a day. The Carmot is entirely metabolized by the Tribble, their output is simply fresh sand.
Tribbles mate seasonally, finding a new mate each year. Tribbles give birth to a single live offspring each year if they successfully mate near a rich source of Carmot. This new Tribble is about a quarter of the size of their parent upon birth but they are immediately able to care for themselves since they were born on top of their initial food supply. Within a week a Tribble is full-grown. The life span of a Tribble is usually between 5-10 years, Tribbles in captivity commonly live shorter lifespans ranging from 3-5 years.
A Thanks to Mikaboshi for information concerning this creature.
A Thanks to Toraono Kuro for information concerning this creature.
|
Carmot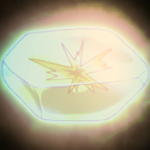 ​

Carmot is a naturally occurring element found in the deep caverns of Wind Country's massive underground networks. Theoretically generated as a by-product of the legendary Wind Country sandworm's digestive process, Carmot is almost pure energy in crystallized form and is highly sought after for a large variety of usages though a high-yield fuel source is its most common application.

Finding/Farming Carmot
Carmot, being the excrement of Sandworms, has made farming the resource almost impossible. Most commonly it is simply "found" making treasure-hunting a common vocation for the adventurous. Sandworms are known to frequent areas far from civilization and known paths and mating grounds are dangerous to enter and knowledge of their location is limited. A common search technique utilized by successful Carmot surveyors is to follow the Sand Tribbles found in the desert. These tiny animals are drawn to water but they are also drawn to Carmot and will search it out as it is believed to be a food source for these tiny critters. It is said that if a Carmot hunter follows a Tribble long enough he will likely come upon a boulder of Carmot within a few days time.

A Thanks to Mikaboshi for information concerning this substance.
[/col]
General Threat Level – <COLOR color="red">Minimal: D Rank​
<COLOR color="orange">
Pugilist Scorpions
​
[col]

So called because of their characteristically large
tarsus
and
manus
, the components of the scorpion's claw, Pugilist Scorpions are the powerhouses of Wind Country's Scorpiones order. Growing to a size of 2-3 feet in length, Pugilists are nocturnal and hunt small mammals, relying on their over-sized claws to kill their prey as they sleep. They possess a low-strength poison that serves to cause minor paralysis, slowing reaction time, but which causes only numbness in human-sized targets.
These scorpions are not aggressive and would rather scurry from battle.
A Thanks to Karakaze Kazuki for information concerning this creature.
|
Pugilist Venom
This venom is found in the stinger of the Pugilist Scorpion, a breed of scorpion that is indigenous to Wind Country. This venom causes complete paralysis including respiratory arrest in targets under 30 pounds but can effectively paralyze a target up to 50 pounds. Human-sized targets, defined as those with a weight in excess of 90 pounds only suffer from localized numbness to an affected area that can be generalized numbness if the dose is great enough. The effect lasts up to 3 hours. This venom is often used by medical personnel as it has been found to be an extremely safe and effective local analgesic.
[/col]
General Threat Level – Minimal: D Rank​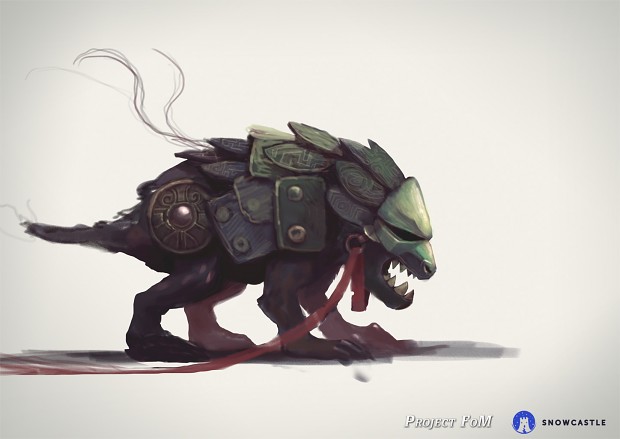 An imposing creature with a weight between 900 and 1400 pounds, the Armatunk is a massive creature that has been able to survive in Wind Country despite limited resources they require little food or drink. Slow-moving, they carry with them an armored upper body made of heavy bone-like scales. Their underbelly is one of the few places that has superficially thin flesh. Because of this, they are hard to kill despite the fact that they are slow-moving and not necessarily intelligent animals.
Armatunks were first domesticated about 500 years ago by early Sunans that worked the land under the rule of the ancients. Armatunks are easily domesticated and gentle creatures but they are also rather powerful and were helpful in plowing fields and carrying heavy loads that humans could not. While there are still domestic Armatunks in Sunagakure, their uses underground are limited. Wild Armatunks still exist in the Badlands of Wind Country undeterred by the unruly Diamond Maelstrom. They sustain themselves mostly on small plants and animals they find in the desert, but in captivity they thrive on various forms of grain feed.
Armatunks have very little nutritional value if eaten. Not only is their armored hide nearly impossible to get through forcing one to attack from the underbelly, but the meat of this animal spoils quickly and has a bitter taste. Due to its relatively little need for sustenance, there is little protein or other nutrients found in their meat. While their meat may satiate hunger, it will not provide sustenance. Their armored hide, on the other hand, has been used by some indigenous tribes as body armor. The armor is durable and surprisingly light weight but it carries with it a dead animal smell that does not go away even after long periods of use, in fact many people suggest that the stench only gets worse with time.
A special thanks to Mun for information concerning this creature.
General Threat Level – Minimal: D Rank​
This aptly named insect of the grasshopper family is located mostly in the rare grassy areas in the desert, such as those found in and around various oasis' in Wind Country and the ruins of old Sunagakure. The Bugs have been known to be quite docile creatures, with the intelligence equal to that of a horse. A Dune Bug can grow to the size of a pony and on rather strange and completely circumstantial situations have been known to actually carry people across the desert. They constantly migrate, at least once every month, in order to stay ahead of natural sandstorms which they can sense via highly adapted fiber optic hairs on their legs which are highly sensitive to pressure changes in the air. These hairs also make them highly aware of almost every thing around them that's large enough to change the flow of air such as humans, small animals and the like. It is also believed that their heightened sense of touch results in either poor sight or complete blindness, as they have been known to crash into things when traveling down wind. While they have what appear to be wings on their back, these creatures are incapable of flight, but their strong hind legs can leap over thirty feet into the air when startled.
As omnivores, Dune Bugs consume plant life as well as acting as scavengers of the dead; they seem to have no taste for living flesh. The Dune Bugs travel in small colonies and are rarely ever found in solitude, due to their highly pack-oriented society.
A Thanks to Karakaze Kazuki for information concerning this creature.
General Threat Level - Minimal: D Rank​
The Sunan Dustboar is a thick-skinned, hearty creature found mostly in the badlands far from agrarian civilization. However Dustboars can occasionally be found as close as Soon's Haven where they feast on the varied greenery available. They measure about three feet long on average, and possess large tusks and claw-like hooves, generally assumed to be their natural tools for burrowing or scavenging the desert landscape for sources of food or shelter, as well as offering means of self-defense against predators. They travel in packs dubbed 'sounders' that range between six and twelve and can go weeks without fluids, which explains how such a simple creature could survive the harsher areas of Sunagakure.
Dustboar meat is considered a delicacy, as it is difficult to obtain and extremely tender and delicious when prepared. Only licensed hunters, companies and shinobis are permitted to hunt Dustboar due to the risk. While Dustboars are generally docile creatures, they become extremely territorial and aggressive when agitated or confronted, thanks to in part the relatively large variety of natural predators that they are liable to encounter. Travelers are warned to stay clear of them.
If confronted with a Dustboar, it is recommended that you seek higher ground.
A Thanks to Karakaze Kazuki for information concerning this creature.
General Threat Level - Moderate: C Rank​
An imposing reptile, the Kyrinchor, pluralized Kyinchi are aggressive animals that tend to stray far from areas of civilization. Carnivorous, they will attack a target even if unprovoked and even if food sources are not scarce. Noted for their golden to bronze-colored scales and red spotted snake-like markings that differ from Kyrinchor to Kyrinchor as well as their body-type which is a hybridization of a three-headed canine and a lizard. They are day-time creatures, preying on nocturnal creatures that attempt to find shelter during daytime hours but they are not adverse to direct combat, even with their own kind. Kyrinchi are known to eat their own, especially their young, of the 20 or so eggs they lay every 8 months, only 3-4 survive to adolescence.
The male and female Kyrinchor differ greatly. The female Kyrinchor is often found in a small pack with young Kyrinchi which break from the pack upon reaching adulthood or fighting the dominant female (their mother) for pack superiority which often results in the mother Kyrinchor's death. Male Kyrinchi, on the other hand, are solitary creatures that do not eat their young, unlike their female counterparts and only come into contact with other Kyrinchi for the purposes of mating. Such alliances are brief because female Kyrinchor will even lash out against their mate.
Neither the male or the female makes a good pet, but the female is worse than the male for this purpose. There have been documented instances where a male Kyrinchor will ally itself with a human master if that human master shows him or herself as a superior fighter and provider and is not aggressive towards the Kyrinchor. The most threatening part of these creatures is their unpredictability, with the physical power of the average Chuunin and no special skills beyond a bite, as long as you are sure to keep your eyes on this creature and be prepared to fight you will likely survive the encounter.
General Threat Level - Moderate: C Rank​
A special thanks to Suteku Ari for information concerning this creature.
Shuriken Scorpions are the most poisonous arachnid found in Wind Country. While there have been reports of Shuriken Scorpions outside of Wind Country, they are few and far between because these scorpions prefer hot, dry settings only offered in the desert. Approximately 3 inches long (the size of a shuriken), these black invertebrates look no different from any other type of scorpion and that is what makes them so very dangerous. Shuriken Scorpions carry a powerful poison called
Necrosis
, this poison causes severe nerve and tissue damage, causing paralysis, burning numbness in the extremities and eventual death as vital and delicate neural tissue is degraded in as little as just half an hour, depending on where an individual is stung.
Shuriken Scorpions can be very aggressive, the stinger is an effective hunting and defense tool for the scorpion. They rarely scuttle to the shadows and will often
hiss
of wave its stinger menacingly if it sees a potential predator. Many an unfortunate avian have attempted to pluck a shuriken scorpion from the ground only to meet their death shortly thereafter. In fact it has become biologically programmed over the eons that birds will avoid all manner of scorpion in the desert.
It is believed that shuriken scorpion stings are the 8th leading cause of death for Wind Country shinobi and most common cause of death that can be directly attributed to an animal. While some animals are considerably more destructive and dangerous, such as the mighty Sandworm or Carnasaur, the Shuriken Scorpion is significantly more common and extremely dangerous. Some people actually revere the Shuriken Scorpion as a sign of strength and tenacity and tattoo themselves with an image of the scorpion on their back. They purposely expose themselves to the scorpion venom in small, calculated doses as to gain eventual immunity. They believe that in doing so enhances their vigor and call themselves a member of
The Order of the Scorpion.
A Thanks to Karakaze Kazuki for information concerning this creature.
[col]
Necrosis
Necrosis is a powerful poison carried in the stinger of the Shuriken Scorpion. Necrosis is known to cause rapid death in a victim in as little as thirty minutes but it could take as long as an hour in some cases. Symptoms are almost immediate and include searing pain as the site of injection that spreads distally and then centrally. It is said that the pain is so great that the pain simply stops after several minutes and that the
nothing
or numbness felt is simply the nerves no longer sending impulses of pain to the brain. The Necrosis venom attacks every major organ system, blocking its ability to take up oxygen, causing cell death in a matter of minutes. Victims often die due to multi-organ system failure within the hour.
Treatment:

The most effective treatment is an anti-venom called Revite. Revite has been restricted to hospitals and is not available openly on the market due to its high cost. Second to this, supportive treatments are the most effective but as previously mentioned, this venom causes multi-system organ failure and this would also require a hospital setting to render effective care. A tertiary option and the only field option available is to suck out the Necrosis poison, then to tourniquet the affected extremity and seek medical attention as soon as possible and hopethat the poison does not spread to the body core before Revite can be administered.



Alternative Uses:

A form of this venom is sometimes harvested from shuriken scorpions for use in ANBU interrogation. A weakened form of this will not kill a victim but still leave them in a similar degree of pain. Eventually with enough doses given there is the supposed possibility of multi-organ failure, but thankfully no victim has ever held out long enough to know this for sure.
|
The Order of the Scorpion

Little is known about this special interest group. They are not believed to be a religious unit, but this cannot be known for certain. All that is known for certain is that these people believe that they must continually expose themselves to various poisons to fortify themselves and to increase their vigor. The venom of the shuriken scorpion is the final test for many of these members once they have exposed themselves to every other kind of venom available. Those who succeed and survive a full dose of a shuriken scorpion sting without medical care then mark their flesh with the symbol of their faith, manhood or vigor: a runic symbol resembling a scorpion.

Some believe this is a sub-sect of the Yamanaka Clan, a clan known for their skills as florists and the adept skill with poisons. These people take their family secrets and skills one step further and attempt to intake the most virulent forms of toxins with the hope of increased strength and vigor but this is only a theory.
[/col]
General Threat Level Individually – Moderate: C Rank​
General Threat Level Multiple – Dangerous: A Rank​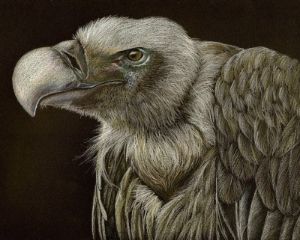 The Sunagakuran Crow is a solitary creature by nature, only seen in groups when feeding upon a large carcass. These creatures, often depicted in tall tales and legends, are shy but territorial against other birds, inhabiting dark, cool areas and nesting in the tough, thorny plant life that are common in Wind Country. They are much larger than a common crow and display a rather ragged bill with a thin layer of feathers on its head, making it look almost bald; a design that ensures its head can easily enter a carcass without getting caught.
Although its staple diet consists of dead meat, the Crow will not pass up fresh meat when it presents itself. It will also eat lizards, rabbits and other small prey. Tales have it that they also hunt humans, both adults and children, but this has yet to be proven.
A subspecies of Sunagakurian Crow can be found can only be found in caves near oases, where they prey upon animals visiting the waterside. These are considerably more active during the night than the common Crow and will eat anything it can overpower. There is a large size disparity between the Common and Giant Crow; the former can vary in length between one and two feet, possessing a proportionate height for such a bird, while the latter is considerably larger and possesses a highly volatile temper and fierce temperament. Giant Crows, growing up to 8 feet in length, have been known to be the deaths of many an unprepared traveler, and can decimate caravans overnight.
[col]
Common Sunagakurian Crow said:

The Common Sunagakurian Crow usually scavenges and kills small prey such as rodents and lizards; living humans have little to fear from the common Sunagakurian Crown but they have been known to be "dirty animals" that carry a variety of bacteria that can cause illness in humans. For this reason they are considered vermin and they are often hunted. The common crow is a day-time animal, roosting high on cliff faces or perched on thorny branches. Their main predator is the Giant Sunagakurian Crow, a cousin, that is known to pick off common crows when other food sources are not readily available. They remain airborne at the first sign of threat making them difficult to catch alive but they have no known utility either.
General Threat Level -
Moderate: C Rank
​
​
|
Giant Sunagakurian Crow said:

The Giant Sunagakurian Crow is a larger species of crow that can be a distinct threat to humans, up to 8 feet in height with a wing span in excess of 21 feet, these crows are capable of lifting a human from the ground. While they prefer to feast on the dead as that is their easiest quarry, they will attack larger animals up to 300 pounds in weight. They kill their prey by lifting them from the ground and then flying to great heights before dropping their prey to earth, allowing the fall to kill their target. They also have sharp talons and a razor beak which can be used offensively and defensively. They are often hunted for trophy pieces or to thin their population. They are a constant threat to traveler, specifically caravans and exhausted explorers.
A Thanks to Karakaze Kazuki for information concerning this creature.
General Threat Level -
Dangerous: A Rank
​
​
[/col]
[col]
Three feet in length, the Archer Lizard is a carnivorous beast with an opportunistic and cunning streak. Hiding below the surface of the sands, its earthen coloration aiding this attempt, Archers then project a stream of venom towards the face or eyes of its prey, causing severe burns or total blindness. The Archer will then emerge from its hiding place and attack; pulling the wounded animal down with serrated claws and sheer bulk and finishing it by biting the throat. Archer Lizards hunt animals far larger than themselves, always leaving the majority of the deceased for consumption by scavengers, for their actual appetite is rather low. It is not known why the Archers hunt beyond their requirements, be it territorial or simple defensive instinct, but their existence allows other smaller species to thrive, and so they are often found in areas of high ecological variation. They hunt singly, as all lizards, and will often attack humans given the chance.
The hide of an Archer Lizard can sell for a hefty price, soft and buttery tan; women love purses, shoes and belts made from this material. Due to the inherent risk in hunting this lizard, Archer Lizard leather is rare and coveted among the wealthy. Besides humans seeking their leather, the Carnasaur is another natural predator of the Archer Lizard.
A Thanks to Karakaze Kazuki for information concerning this creature.
|
Brumhelic Acid said:

An acid expelled from the Archer Lizard. This caustic substance is known to dissolve most carbon-based matter. Celebrated for its scientific uses, Brumhelic Acid has the same ph as hydrochloric acid but due to its naturally tenacious nature it does not dissolve as easily in water so it can not be washed off with simply water, rather an oil-based such as Prickly Apple Extract is necessary to dissolve the substance and it is a common component of a medic kit. Even with prompt removal, damage is almost immediate.
Prickly Apple Extract said:

An extract that comes from the spiked fruit of a common cacti, the Prickly Apple Cactus. So named for the rose-colored fruits it produces year-round. These small fist-sized fruits are edible but they have a thick spiny shell that protects the tender flesh. While this cacti is edible and used in various wines, it can also be distilled into an oil to counteract strong acids. This can have a high pH and be very damaging when exposed to skin as alkaline substances can be as dangerous as many acids, but when used to treat acid that is actively burning a victim, it is a safe and effective treatment.

This is relatively cheap and easy to produce so it is a common staple of many medical kits.
[/col]
General Threat Level – Moderate: B Rank​
[col]The largest scorpion found in Wind Country, Gold Scorpions are thus named due to their coloration; a deep color that fades into red in darker conditions. As long as 6 feet, though individuals have been found up to 9 feet in length, Grand Scorpions are mostly scavengers, but will rely upon violence when food is scarce or when threatened. Mammals killed in this way will be allowed to rot for several days until edible. Gold Scorpions possess not inconsiderable strength, particularly in their claws, and while their poison is relatively weak, causing dizziness and confusion for up to an hour after administration, they possess large chelicelae, or mandibles, that contain many bacterial and fungal colonies; a result of their diet. A bite by these arachnids is considerably more dangerous than their sting, and difficult to treat due to the wildly varying ecologies found in their digestive systems. If a scorpion successfully stings a target, they will pursue and attempt to kill their target as they never turn from a readied food source, making them dangerous for their kill-intent.
Those who are lucky enough to survive an attack by a Grand Gold Scoprion require immediate medical attention to prevent sepsis. The bacteria are quick to colonize and without care, someone can fall ill from a wound infection within 24 hours.|
Honey Toxin
Named after the appearance of the venom when bottled, a thick pale yellow color, this venom is derived from the tail of the Grand Gold Scorpion. While larger scorpions make more potent forms of this venom, the venom alone is never fatal. The venom merely disorients a target, survivors have likened it to a sense of drunkenness several minutes after exposure but claim that the effects subside within the hour. The danger for most is the scorpion's large claws and mandible, often enough to dismember a confused victim before they recover.

This venom can be effectively treated with any form of anti-venom.
[/col]
A Thanks to Karakaze Kazuki for information concerning this creature.
General Threat Level – Moderate: B Rank​
While many wild dogs can be found in Wind Country's arid wildlands, the Sand Wolf is by far the most aggressive. Possessing a cunning intelligence, the Wolves have thought to have thrived in part thanks to humanity's impact upon the Wind's ecology; all wild dogs have been seen roaming the streets of populous villages, but only Wolves have been known to trespass upon human property to scavenge the food that they seek. This is highly unusual, as they either seem to lack a strict territory, or are so uncaring of that which we have established as to steal from homes and stores at night, provided entrance. They are also considerably more dangerous than the average wild dog; both larger and leaner, they can grow to just under three feet tall while standing on all fours and about 100 pounds, they have been known to attack humans without provocation; this is thought to be the result of the above over-familiarity progressing into the Wolves seeing humans as prey, rather than threat.
These sandy-colored lupines have also been known to exist singularly; that is, without a pack. While pack animals may benefit from shared resources, it is thought that these 'lone wolves' are simply too hostile to co-exist with others of its species. Both male and female, such examples have been monitored over long periods of time and it has been shown that these streaks of fierce individuality eventually result in a lifespan far shorter than their brethren.
Sand Wolves are carnivores and scavengers of the highest order and are largely sessile during sunlight hours, likely in an effort to retain energy. They have been known to dwell in caves and cooler rock formations for long periods of time, but are largely considerably more nomadic than any other species of wild canine found in Wind Country.
A Thanks to Karakaze Kazuki for information concerning this creature.
General Threat Level – Moderate: B Rank​
Sandrunner
A tall ratite, or flightless bird, Sundrunners stand 6 - 7 feet tall and can weigh 400-500 pounds. It is assumed that despite their generous wingspan of 10 feet that their weight permanently grounds them. Wings are essentially useless to the Sandrunner, they dash across the desert sands in small groups reaching 60 miles per hour. Their scaled legs and large claws rake the desert floor, leaving an obvious trail for trackers to follow. All Sandrunners are a generic yellow color at birth and as they age they develop dazzling individual color pallets: No two Sandrunners look alike.
Sandrunners are found in small flocks, wandering the deserts foraging for food. Omnivores, they sustain themselves mostly off of the rare small mammals, reptiles, plants and fruits found in Wind Country. Due to the scarcity of resources, Sandrunners only stay in one place long enough to hatch their young in temporary nests made from displaced sand most often in a shallow cave or beneath a stone ledge. The eggs hatch within a week of being laid, the female Sandrunner keeps the egg within themselves for the first 5 months allowing the egg to almost entirely develop before even being laid. Each nest has only 1-3 eggs, something that might also contribute to their endangered status since these eggs are the target of many of the other desert predators. With a strong maternal instinct, Sandrunners are very protective of their young and have a sense of family and flock, intruders are always met with aggression.
Sandrunners today are very rare, perhaps a result of the storms that plague Wind Country. They still exist in small flocks but they tend to be found on the outskirts of the desert lands where the storms are calmer. Those found in captivity have been found to live between 40-45 years. They are commonly the prey of larger animals such as the Carnasur or pack animals such as Sand Wolves when they are separated from their pack. But their fiercest predator is man, celebrated for their vibrant natural plumage, their feathers are adored by aristocratic women willing to pay top dollar. Through aggressive hunting and tracking techniques Sandrunners have been hunted to the brink of extinction. It is considered to be a crime to hunt Sandrunners, but despite this poachers to this day continue to hunt this bird as a trophy piece or to sell the plumage in adjacent countries.
A thanks to Okibi for information concerning this creature.
General Threat Level Flock – Dangerous: A Rank​
Hykal​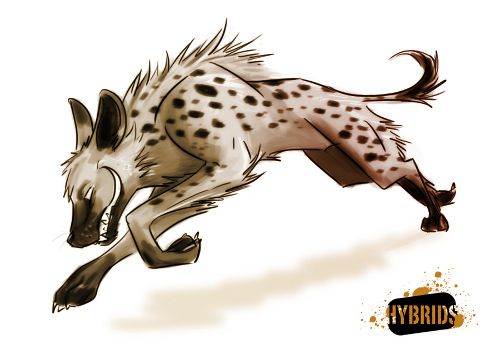 A canis-species mammal, this creature has been commonly likened to Sand Wolves, but these creatures are another entity entirely. While canine-like in many ways, the Hykal is a pack-oriented animal, making them significantly more dangerous than their peer the Sand Wolf. While smaller than the wolf, a Hykal stands only 20-25 inches high on all fours and weighs between 34-60 lbs, they make up for this discrepancy with their sheer numbers. They often exist in packs greater than 5, with some packs reportedly as large as 30. It is unknown how a pack of such a size is able to sustain itself considering the limited resources all critters must compete for in this arid landscape, but these carnivores both scavenge the dead as well as hunt small game. If desperate, they will attack larger solitary animals, something that they are largely successful in but often tend to prefer to take less riskier prey when available. Faster prey, such as Sandrunners are often safe from Hykals because their top speed is 15 miles per hour, slower than a running human, but Hykals are able to sustain this speed over protracted periods of time, often allowing fatigue to overtake their prey before they descend.
A nomadic species, Hykals can track their prey over many miles. They birth live pups after 5 months gestation and within days pups are often able to keep up to their peers. Litters often consist of 3-6 pups, when taken as pups into homes and domesticated these small dogs can grow up to be loyal, fun-loving companions. Said to live 13-15 years, they can provide companionship for many years.
Mostly noted for their unique tan medium length fur with target spotted markings and their grinning expressions. Some call them the
"mocking dog."
Their pelts are prized among those in cooler climates both for their warmth and for fashion. Humanity has hunted these creatures to the brink of extinction.
A thanks to Okibi for information concerning this creature.
General Threat Level – Dangerous: A Rank​