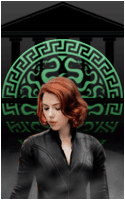 Active Member

Isolated, and away from the city. A perfect place really. It was here that Megami had purchased a spot of land for her and Hana to live. It was an island, completely surrounded by the sea, with a few grassy patches, and very little crime. Most preferred to live in Maruishi, or in the center of Iwa, but Megami wanted to keep Hana safe, and live in a place where it wasn't loud. Her home, was made of fine metal, strong to withstand weathering and natural disasters, even weapons if the matter was to arise. It wasn't large by any means, just enough for her and her sister. It was held by support beams in the water, with a glass covered stairwell leading up to the door. It was a strange site, and many questioned the design, but it was strong and fortified. It was rare the times she was home, and sure, this place was more for Hana's sake than her own, but on days unlike today, it wasn't much of a choice for her presence to be there.

Megami sat at her kitchen table, dressed in nothing more than a white baggy tank top, a pair of black boy shorts, and pink pig slippers. Her hair was slightly in disarray, having just gotten up. On most days, she would have been up before the break of dawn, fully dressed for work, but she was running behind today, on account of coming down with a bad cold. She hated missing work, but her sister refused to let her leave. Megami was slouched over her kitchen table, glaring at her sister. "This is ridiculous, Hana. I'm fully capable of going to work." Hana stopped washing the leftover dishes from breakfast and looked at her sister, hands on her hips. Megami's face was paler than usual, extremely flushed, and her eyes had a glossy look to them. Hana sighed and before Megami could react, Hana already had a hand on her forehead.

"You're sick, you have a fever, I'm not letting you go anywhere."

She turned around, only to hear the ever so expected grumble that followed.

"And don't even think about sneaking off, I already sent a letter out for someone to come watch you."

Megami stood up, fury in her eyes, though the intimidation wasn't as strong as it usually was, given she wobbled a bit from the speed she had stood up at. "I am not a child, Hana. I'm fully capable of looking after myself. Why would you even call someone in..." A sneeze interrupted her momentarily. She sniffled. "...call someone in, if you're going to be here. Unless you aren't. Where are you going?" She knew her sister like the backside of her hand. Hana, while extremely loving and respectful of her sister, definitely knew how to push her buttons, but also how to take advantage of a situation.

Hana started over into the bedroom across the way, forcing Megami to stand from her stool and follow after her slowly.

"I'm going on a date with Yuki. I know how much you dislike him, and no you can't stop me this time, threaten him, or follow us around all evening glaring angrily at the back of his head. You're going to stay here, at home, until you get better."

Megami stopped and her jaw dropped. This was not happening! Not on her watch! "He's an idiot. You know he isn't good enough for you. I refuse to let you go." Hand turned around and wagged her finger at her sister.

"Sorry, Sis. But I'm not a child anymore. Someone should be here shortly to make sure you stay home. I'll see you this evening."

Hana gave a friendly wave and danced out the door. Megami stood, angrily staring at the door. She walked up to it, placing her fingers delicately on the door, shortly followed by her forehead. The cool metal felt good on her hot skin. She let out a deep sigh.

Turning her head back, she trudged over to her cabinet and started to search through her wardrobe looking for her armor, patrol gear, civilian clothes, anything really that would get her out the door and stopping Hana from seeing that stupid idiot. She couldn't find anything besides her pajamas. It made her scowl at the drawer, until she saw a note. Picking it up, she read it over. Sorry, sis. But you really aren't leaving the house today, well...that is unless you want to go out in your pjs. I'm sure everyone would get a kick out of that! Love you! Megami crunched the weak paper in her hand, and threw it aside. There was no way she was leaving dressed like this. Hana would pay later though. She looked around her house, thinking about what Hana had said. She called in someone to 'watch' her based on some paperwork she found on her desk? Megami's eyes scrunched together. She walked over to her desk and found an assortment of ANBU and Guardian records that she had been looking through in a review of the branch. She groaned loudly to herself before facepalming. Normally she would lock these things up, but her small fever last night had put her to bed earlier than expected. Megami could only dread who would be coming. She had to be more careful with these documents next time.

She left the papers on her desk alone and shuffled towards her bed. It was an effort in itself as she swayed from side to side, using the wall for support on occasions. Her fever hadn't quite subsided, making the room spin a little. She fell forward, onto her bed, and turned to lie on her back. Grabbing one of her mystery novels from the bedside, she opened it to a random page and placed it over her eyes. The darkness made the spinning stop. She felt tired, and extremely warm. She most likely wouldn't hear anyone come in, but she didn't really want to see them anyway. She wouldn't have to interact with them if they didn't interact with her. Of course if they tried to take or touch anything from her house, no matte sick she was, she wouldn't stop until she had thrown them physically out of her house. Letting out a sigh, she relaxed, and closed her eyes. "Goddess, help me..."
<i>
</i>