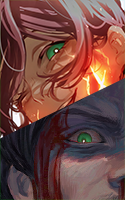 Active Member

Sometimes the work of protecting the hidden cloud proved to be so tedious that it was sickening. Kaji Okada just couldn't estimate how frequently he kept the lights on in the Sileo Tempesta's Central Command so late into the night. Even his office aides were developing rings beneath their eyes from the intense sleep depravity. Since Kaji began his tenure as the Vice Commander, the staff kept bed rolls tucked away at the HQ for those endless nights of hard work. "We work hard so our families can rest soundly" was often Kaji's mantra when he asked for thick reports to land on the center console before sunrise. This was the ultimately the design of the ANBU, or so Kaji often told his comrades— to protect the Hidden Cloud by keeping law and order at all levels and ranks. Whether he was strategizing with a squad before a battle, personally patrolling the halls of the Sileo, or hunting down the vast enemies of goodliness on the peaks of Momento Deo— Kaji Okada always managed it with a determined mindset. It was the way of a honed Anbu to remain studious and neutral. You work to obtain the needed information as an anbu, and do it with a clear head. Always clear and concise. Yet, something recent had Kaji on edge, maybe even angry. He was pushing himself and the many masked ones at his disposal, redirecting resources, and creating a manhunt to uncover disgusting contraptions… all in an effort which became a vendetta of sorts.

In truth, it all began as a haphazard discovery made by a dusty old grid engineer named Torazo Noguchi working his usual assignment in the Susukino District. Despite being known for its innovation, you should know that the infrastructure of the Hidden Cloud's energy grid is actually fairly dated— that's just what happens when something is made well, it lasts a long time. So, a couple weeks ago Mister Noguchi received calls about disruptive surges to the grid from some of the tenants. He said it actually took a couple of hours, but Torazo's search for the cause of the surge led to what he described as "Some newfangled camera-thing… 'It was jury-rigged by some f****** amatuer so I stripped it." Torazo was initially irate when he reported his find and turned over the camera to the authorities, complaining that "The Hidden Cloud isn't a surveillance state! 'Our people deserve better." Torazo was right. And, as with any infestation, more complaints flooded in of strange spikes around the village's fragile power supply due to the jury-rigging. So, it wasn't before long that first state of the art wireless camera found its way to the Sileo, and Kaji Okada was simply ordered to "fix this."

The Anbu branch is where you go when you need to get ahead of a scandal, that was for certain as Kaji pulled dozens of shinobi from their usual duties to take part in a vast sweep. Luckily, the Hidden Cloud was rife with the noble Santaru, who eagerly participated in tracking abnormalities in the power grid. Keen-eyed Hyuuga were also tasked with finding the out of place chakra-based energies of these unique devices. Lastly, the Cloud's genius shinobi, known fondly as the Quick Learners, were gathered to easily predict the patterns of whoever sought out locations they thought ideal for setting these devices— apparently, this was an easy criminal mind to pick apart. All in all, after about a week of work, a total of three hundred and sixty-two cameras were uncovered and taken off the streets. It might have been a relief in some ways, but it really just opened the doors to a much greater mystery. A crime like this took dedicated amounts of time and resources to accomplish, let alone gaining unheard of technology. With the ANBU's laundry list of suspects growing ever larger by the day, Kaji Okada and his allies were on the hunt to catch a predator preying on the unsuspecting masses.

- Kaji Okada has entered the thread.
- As the tag implies, this thread is open to all Cloud Anbu, Sennin, and Kage.