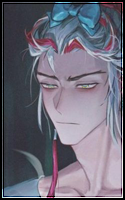 Well-Known Member

Silent stumbles were coming from the room where this white-haired male was staying. His bedroom was still dark but the window was open, Nao had taken a trip towards the roof where he sat there. His clothing typical just as he had gotten out of bed, a shirt that was just 1 size too big and sweatpants. Once he had situated himself on his behind on the roof tiles. He wasn't wearing any shoes or socks regarding so that he was more silent and kept his grip on everything. He did wave to the guards before they would check him out and disturb the peace he had right now at the moment. He just wanted to take it easy waking up with a smoke and a coffee... With a simple hand sign he summoned his contract and even he was still in the waking up the mood. "
Hmm..?"
With that, they started to chatter and do going over things together.
Nao eventually turned his head towards the east and saw that dawn had broken through. The sky in the opposite direction was still dark and looming, but in the eat, a mixture of yellow and orange on the horizon beneath a dark neon blue ocean of night had begun to evaporate. Against the tri-colored rainbow sky, trees and rooftops of houses were looking like shadows. Roughly twenty minutes later, the sunrise had become even more astounding and beautiful as the sun peeked over the horizon. The sky was now painted with pink like the sea of cotton candy, the light of the sun coloring the clouds above with a pinkish hue... As the sun slowly ascended, the sky in the west became a deep neon blue as the light reached further out. By the time Nao started to get back inside again the pink had become a pale yellow mixed with the color blue.
"This... was one of the most... beautiful one sunrises I have seen before..
"
"Be glad so far no one gave you a full moon."
"Urf..."
Nao then started to jump off the building and go towards the spot they had talked through, once he was there he started to turn his head left and right, seemed like it was indeed peak season. He gave here often many pieces of training to others and he and his summon also had made sure that there was no one near, to tell the truth, Sai often had to fight one-off but he had been glad about it.
Once he finally was at the destination he would be around the gates waiting on the other to come and show up.
OOC said:

Nao is blue speech, Sai is yellowish speech

You have 5 OOC days to respond, failing to do so will result in a 1 out of 2 strikes. By two strikers you failed this tutor. If you cannot make this 5-day thing, tell me I can suspend the timer one time.

This is a tutor for Bones

1/5
440 / 1500