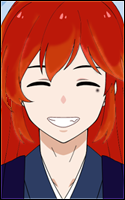 New Member

Starved, broken, bloodied. These were all candid descriptions of the ragged, grizzly mess of an academy student that shambled through the village gates late sunday morning. Kaji Hirohito had been missing for nearly six days, and with only three days' worth of food, it hadn't been easy getting back. The crushed and soggy food did good to supply him with the energy he needed to survive, but that didn't last long. Along the way he had been forced to scavenge for berries, roots, or mushrooms to sate his hunger. But the meager meals were always too few and far between. His eyes were bloodshot, Kaji hadn't slept in over a day, and never slept more than one hour at a time. How could he? Those
things
haunted him every time he closed his eyes. Forcing their way into his worst nightmares, making him relive that horrible experience over and over again.
The rest of him was in much the same state, his legs were tired, sore, and strained to their limit. His back, ribs, and core burned and cried out for mercy from scratched and deeply bruised tissues. His right arm was layered with small cuts, scratches, and peppered with shrapnel. While the other had broken along the humerus and was held together by a cheap, padded brace bound to the outer side of his arm. His clothes were bloodstained and torn, covered in fragments of bone and grizzle. He smelled absolutely revolting, and hadn't bathed since the incident, as he was terrified of losing consciousness in the water and drowning. On the flipside, his equipment was still intact, both the gear bag and satchel he carried were only lightly charred and stained in comparison. And the satchel still smelled pungently of rosemary, somewhat masking the odor of it's carrier.
Despite having been chewed up and spat out by nature, he was very much alive, and very motivated to survive. Thoughts of a clean, soft hospital bed flooded his mind, nearly drowning him in a wave of unconsciousness. But his focus prevailed, just barely, allotting him the time to shamble his way across town and into the medical ward. Where, at the front desk he weakly uttered two words,
"Help... Please..."
, before collapsing into a heap on the floor.
WC: 379
Last edited: