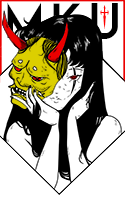 Member


Observant eyes have watched their pupils progression from the shadows of Kumogakure. From collapsing at the foot of the medical sennin in a fight for oxygen to the slaughter of their guardians who were spies for an infiltrating republic of crazy church cultists. The young man has made vast strides in hardening his mental stability and deadliness within the shinobi community. A finely tuned weapon for the upcoming travesty that was about to unfold. With these achievements could he best what the future had in store for him. That was for Sennin to find out with her duo trials.

Heavy rain coated the outskirts of Kumo's villages for the past several days. Ravines began to flood and the mud from the mountain sides made climbing them dangerous for even the most skilled shinobi. Nature always seemed to best them, unless they were attuned to the Mother's whim as an archsage. From mudslides to flash floods the journey to my pupils exam seemed impossible, but if he truly wanted to live up and break the limit of his clans dreaded history, perseverance needed to mold his mind.

Atop the vast mountain range sat an isolated temple. Legend has that the worshipers of the temple praised Raiden in all his glory and one day mysteriously vanished, leaving the building to slowly decay over the decades. Weatherization chipped and molded away at the temples outer markings yet the insides remained persevered and spectacular. There I sat in the center of a wide seal, chalk painted my calloused hands, running through the complex hand seals to summon the first trial for my dear pupil. Lightning surged and coursed around me as a stone golem emerged from in front of me. Without hesitation it cocked back its massive stone arm and lurched forward. You know how the game goes, paper split from my face and halted the giants movement right before impact. The paper seal slapped right onto it's fist, expanding by the second the encase its hands in paper. More sheets peeled off my body, adhering to hard to reach spots behind the stone golems neck.

Once the golem was obedient all it took was a confident gesture out the door way and down the mountain to the bridge that led out from the mountain side to the mainland of Kumogakure. Miles long from the temple to the long bridge it would take some time for him to get there. Just enough so that I could craft minute paper butterflies sealed tightly with blood. A message had been encrypted into the butterfly.
'The bridge to the monastery is your first trial. Best it then move on to the next. Don't keep me waiting.'​
The paper butterfly sat gracefully on the backside of my hand. I rose it up into the air, letting the cold breeze of the mountain winds take ahold of the little butterfly and out a small window from the temple. The breeze traveled down the miles of steps down towards the basin of the mountain. It danced around the golem as it finally stepped off the stairwell and began its journey to the center of the bridge. The bridge was strong enough to hold the 3 ton stone golem but only wide enough for the golem to sit on. All traffic would be stopped and jumping off the sides meant certain death as the bottom of the ravine couldn't even be seen from the immense fog. As the golem sat, blocking the only way to the stairwell the butterfly continued its journey to seek out a familiar chakra. One of malice and pride, living somewhere in Kumo city.


[Topic Entered]
Last edited: