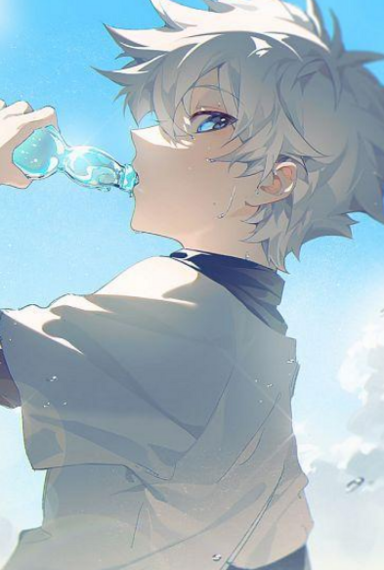 New Member

"Icchan,"
disclosed the boy's position
beneath
a heavy wool cap and
within
the bounding fabric of a scarf wrapped around the small of his face. The hat trailed off into two little nubs of a feline's ears, perched and weighing the cover off-center. It added a much needed black flash to the shock of white that was Kiseki's kept-yet-unruly hair poofing unevenly out from under it. With the circling oranges of the quilt material that he seemed to only pull closer towards a sniffly nose, the collection of colors came together: a tabby cat. He looked like a silly little tabby cat, bundled into its own fur with white booties for paws sticking out from its scrawny shape.
His eyes, however, told a story of some contrast; they were the brightest blue they had been out in the cold, as if each frosty breath lent a new refraction to this frozen lake. They were the appearance of the
feeling
of
freezing over
- like your limbs might tighten and slow from meeting his gaze. The shining lights beneath this surface appeared the only reason they hadn't yet glassed over: there was still warmth there. It was the boy that approached - and the tippy-taps of the cat's feet in excitement from this entrant only added to the fire.
Every step forward was an
ember.
Every thought of the two a shift of his scarf to allow paling lips speech. Kiseki was the picture of the archetypal boyfriend – well, he was, until he realized he thought the word
'boyfriend'
and his little ears reddened to hide beneath bigger ones.
"Are you ready to go?"
Shyly, so softly.
Last edited: