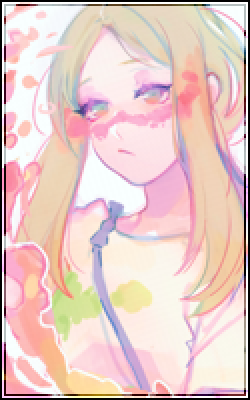 Active Member


Hikaru sat in front of her faceless Jinchuuriki spirit, using the opportunity of 'sight' to examine it more closely. Easy as it had been to slip into the foggy white headspace they shared at will, an unfortunate side-effect she had discovered was that she'd often find herself here involuntarily- like when she was supposed to be sleeping, for example. Being able to see in this half-dream only made her goal of waking Ukabu again more appealing. Ever since it had unconsciously restored her eyes, it had felt completely dormant to her.
The spirit was humanoid, with dark gray skin that shone the reflective blue of polished metal. Its head bore the shape of a face: the bridge of a nose, faint ridges of a brow, even a pair of shadows that could be ears. Beyond those, however, its visage was entirely smooth; devoid of not only sight but every other sense save touch, Hikaru had at last found something with less agency than herself. She gave her slumbering companion a knowing smirk. Framing its lack of features was a length of white hair, much longer than hers. A thin halo the color of its skin hovered above, and the rest of its body was hidden by the billowing white and green robes.
The world went dark, and she felt a patch of sunlight fall on her face- she had woken suddenly, and returned to her room in one of the Sakurako compound's singles. The unfamiliarity of the new home had faded quickly, partly with the hospitality of the other clan members, and partly because the past few days had been full of nothing but unfamiliarity anyway. She picked her way out of bed and down the hallway, following a simple mental picture of the home's layout to take her to the bathroom.
A minute later, she made her way back to sit on the bed, touching a clock on the wall as she passed to tell her that it was just after 7 am. She had asked Nao to help her train in the mornings; or, more accurately, help her figure out how to train in the first place. If what her father had said was true, she was practically a different ninja than the Hikaru who entered the tournament: she had Ukabu released from the Kaiku and on (in)active standby, and if she had enough Hashigaki DNA to blind her then she likely had enough for the clan's other Hiden techniques.
She gave a deep, soft sigh. Speaking with her father again was unavoidable, she had decided with Teru. Even if it wasn't… she had disappeared from the man who raised her without a word. He had still lost her trust, enough that she was comfortable with calling the Sakurako clan her long-term home, but she wanted to visit the Miyazaki residence again to talk.
Hikaru shook her head slightly, re-focusing herself. Her mind and body were radically different from the last time she had trained or fought, enough that she felt the only thing missing was for her to 'feel out' how life was going to work. The Hashigaki had to have some form of heightened perception, that much she knew. For now, though, she was relying on a weak derivative of her aunt's Wind-style sensory ninjutsu- by focusing on agitating the wind chakra around her, she could tell what was air and what wasn't. It was crude, but it was enough to get her down to the training grounds by around 7:30...
OOC said:

Spar topic for Sazuki Nao! Anyone else is welcome to spectate