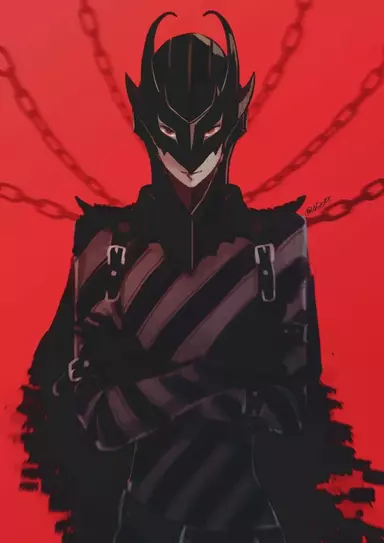 New Member
OCR Form said:

Old Character Name

:

Hyuuga Kana Old Village/Missing

:

Leaf OCR Type

:

Early Retirement Last Known Where-abouts

:

Oak District Old IC Rank

:

Genin New Character Name

:

Kurejī (Means crazy in Japanese) Preferred Username

:

Kurejī New Village/Missing

:

Sand. New BL/CA

:

Void Walker Custom Class

:

Custom Class said:

The Unstable Mind
HP: (45+lvl) x stamina
CP: (45+lvl) x chakra control
Class Bonus: +2 dodge (.5 dodge, 1 class point x4)
High: Ranged Accuracy
Average: Genjutsu DC, Genjutsu save, Dodge
Low: Ninjutsu Accuracy, Melee Accuracy

Main Branch/ANBU/Med-Nin

:

Main Branch IC Rank

:

Genin Character Age

:

18 Gender: Male Sex:

Male

Character's Physical Description

:

Standing at six foot tall flat, Kurejī is a different person than others. A big indicator is that he is always wearing a mask. This isn't a standard ANBU mask, but rather a hockey mask with red markings on them along with sharpie markings to resemble eyebrows. His eyes are black, but also blank, as if there isn't life behind those eyes at all. He usually wears a black shirt with black jeans and black shoes. He also likes to wear a blue hoodie unzipped. If one were to manage to take his mask off, which is a very rare thing that would happen, they would be in for a weird surprise. He wears make-up to make his face resemble a clown. Character's Mental Description

:

Kurejī has an unstable mind. He is known to overreact to things, especially if it was something cool and awesome that he has never seen before. Despite his fear of anything remotely scary, Kurejī will run head first into danger screaming at the top of his lungs as he does so. It is also known that he will talk to himself or go even as far as refering to himself in third person when talking to someone. Despite all of that, he can think for himself and has done some interesting things that normal people would not really think of doing. He is also one of the most loyal people you would ever meet as long as you give him food to nom on. Despite his unstable mind, he is thought of as harmless as the most unsettling thing he has ever done was have a complete conversation with himself. He never thinks of making plans and just goes ahead to do whatever is needed, which mostly consists of running into a situation blind of information and hoping for the best. Multiple Personality Application

:

N/A Character History

:

Kurejī was born into a normal family. He was one to usually do as he is told, nothing more, nothing less. That is, until one day, Everyone in his family went insane, they saw... something that had broke their minds. It was enough for the neighbors to call for the Shinobi of Sand because they can hear the wailing and screams from the next house over. When the Sand shinobi came, they found Kurejī's paerents and brothers and sisters clawing at walls, doors, and other furniture. It was a grotesque sight as if they almost don't even look like humans at all, but rather morphed creatures. But maybe the most disturbing thing of all was the boy himself. His insanity was different than that of his relatives. He was found in a corner of a room rocking back and forth saying the Void had visited them. When he was asked what his name was, he only shook his head and said, Kurejī over and over again. It was obvious that the boy had lost his mind, but not as far gone as his relatives. It was at this time that an idea was proposed to take the whole family to the mental hospital, but separate the boy from the family. The goal was to re-introduce him back into society whilst also training him to become a ninja. As days passed by, Kurejī had accepted that as his name and went on to talk and act more like a human. There were exceptions though. Because of his lack of meeting new people, Kurejī often over does his showing emotion. Days turned to weeks, weeks to months. The boy was more like an extrovert now. This was when he was finally introduced to Shinobi life. As he started to train his caretakers slowly learned that he wasn't just a victim of the void, but rather part of it as well. As he trained, his sparring partners that had a more stable mind than him would complain of lose of sight, hearing or even touch. He had even had to go to talk to a Yamanaka so that they can peer into his mind to see of how the void had messed his mind up. But the results had made the Yamanaka herself go mad and end up in that same mental hospital. Kurejī had worked endlessly to become a ninja that he was told to become, without really thinking of the why. Eventually, there was a Genin Exam set aside specifically for him, given his current situation, being in a mental hospital and all. The exam in question was supposed to really be a fluke, as they don't think that he is mentally prepared to go out into the real world, nor think he would be an essential role as a shinobi with how broken his mind was. His Genin exam sounded simple on paper, but would be near impossible to really accomplish. His Genin Exam was to leave the mental hospital in 24 hours. Now leaving the place without written documentation proving otherwise results in the hospital's security to apprehend and subdue the person trying to leave the hospital. Armed with this knowledge, that the boy's mission is to leave the hospital, they were on high alert, making sure that there is no way to escape. Kurejī, not really being smart, but can see a sham when it eventually hits him in the face, decides to do something the hospital staff didn't really expect. He had asked around for a way to legally leave the hospital, and a friend that he had made there, Shaba, had said that he can pull a few strings, especially since he has a visitor coming. Kurejī didn't know what he meant by that, but decided to let Shaba do his thing. A few hours later, the president of the mental hospital came by in an angry huff, flipping through paperwork before looking over at Kurejī. "Congrats, I guess. You're free to go." Kurejī was confused by what had happened, but as he walked out of the mental hospital for the first time in a long time, one of the Sand Shinobi who has been watching him progress in the hospital had given him a Sand Headband and directed him to his parental guardian. Even with his mind as messed up as it is, he surely doesn't remember anyone caring for him other than his family, who are still being treated in the hospital as he was walking out. And there he saw the person, his "parental guardian". A man named Akkuma. Clan Request

:

N/A Death/Retirement Thread

:

Last seen Old Profile

:

old profile Old Training

:

old training Old Dojo

:

old dojo Special Usergroups

:

N/A Old Stats:

Agility: 175

Stamina: 175

Ninjutsu: 100

Genjutsu: 100

Taijutsu: 175

Chakra Control: 155

Power level: 880

Old OOC Rank

:

C Stat Cut

:

Early Retirement; 20% stat cut 880 x 20%=176. 880-176=704 pl New Stats

:

Agility: 175

Stamina: 100

Ninjutsu: 70

Genjutsu: 100

Taijutsu: 175

Chakra Control: 84

Power level: 704

Stat Minimums said:

E rank - 20 minimum in each stat
D rank - 40 minimum in each stat
C rank - 70 minimum in each stat
B rank - 120 minimum in each stat
A rank - 210 minimum in each stat
S rank - 240 minimum in each stat

New OOC Rank

:

C Jutsu Mastery Swaps: E rank The one-two (M)->castling (m) uncalled for shot (M)-> guided strike (m) pressurized mist (M)-> swift spin (M) D Rank 4 hit combo (m)->dagger assault (m) 7 hit combo (m)-> projectile launcher (m) aqua fang (m)-> Venomous sting (m) water whip (m)-> basic clone (m) dynamic charge (r1)-> leaking mind (r1) C Rank roaring combination (m)-> gas warfare (m) blast rush (m)-> counter shot (m) carpe noctern (m)-> scatter shot (m) Breaking glass (m)-> black out (m) mirror clone (m) -> crippled (m) Keeping jutsus

Refunding N/A

Name of any Contract you currently own

:

Canin found here

, not going to have contract for this character for now.

Name of any Cursed Seals you currently own

:

N/A

Name of Kinjutsu you own

:

N/A

Still actively roleplaying in any other threads?

No

You can still train (see: explanation of Limbo Training below) and do other OOC things, but you may NOT join any new threads. After you have completed these thread(s), post in OCR again and we will move you on to your next life.

What is Limbo Training? This is the training that you would have gotten if you did not move on to your new character's life. Your caps are determined by your rebirthed stats. You must keep a record of your stats gained during limbo in your OCR thread. You may NOT request for an automatic rank up should you find that your new stats allow you to upgrade. Limbo training is only for people who have died in modded combat or suicide. Anyone whose character has not died is still capable of RPing that character until their OCR is finalized, and thus can train as normal. Things you do NOT need to state, but take note of

:

Abilities = All of your Abilities are auto-untrained upon rebirth. In order to have any Abilities for your new character, you must activate them by posting in your character's Dojo topic in your new village.
Character History = By suiciding/rebirthing, you're making a new character. This means your new character must not know or remember anything of your old character's life/thoughts/feelings. If your new character has ANY direct/indirect connection to your old character, you MUST state that in your new character history write up for Admin & Village approvals. All Medical or ANBU related experience should be reflected in your history along with CA or BL influence.
Editing Your New Character Application = Do not edit a post you have made in your OCR. You must copy all of your information from your last post and add the changes to the new post. This is for papertrail reasons.

Things that do NOT transfer with your next character

:

Please take notice of which ASP shop items that you have bought transfer with your character, and which do not.
Coordinated and Akkuma agreed to having him be part of my character's history.