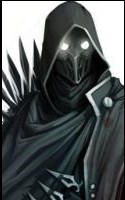 Well-Known Member

Late. Fashionably late though. Sousuke had deployed a team of Suna nin to
help retrieve the Soon's Merchant Fukukui Shino
The mission was underway and Sousuke expected results. The Fukui and the Takahashi were age old rivals when it came to fashioning weapons and armour of great strength and durability. While the other Order buildings were very much under way, there was the final Order to take a stand. The Journeymen. It was Sousuke's hope that others would take up the hammer and commit themselves to a life of learning to fashion weapons and armour that could truly change the tides of battle. Such happened over two hundred years ago when the first Takahashi made the armour of Primus which allowed the One King to endure and battle both Fuujin and Homura.
Sousuke had summoned his companion Ken to help him begin the lower levels of the building. The excavation work was done, but there was a long way to go before truly completing the structure. The building would stand tall and proud. It would show the beauty of the crafts that the Journeymen could bring to the table. Inside each Journeyman would have access to their own vaults in order to build their own wears. There would be a lecture hall of sorts to show apprentices and younglings how to better smelt elemental ores, and how to shape the metals to their will. Together Sousuke and his insect contract worked as Ken placed down pillars of steel that would serve as the base of the structure. There building would have deep roots. Roots that dug deep into the earth, that is how one would establish legacy. That is what his family had done, and that is what Primus had done as well. His actions echoed throughout the ages. Now was the time to start a new tradition, one that Sousuke hoped would span for hundreds upon hundreds, if not thousand upon hounds of years.
That being said, a little help would go along way. The creation of the building itself would be a first step in showing apprentices what it took to be a Journeyman.