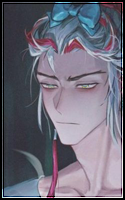 Well-Known Member

From one end to the other, that was something that Nao had been doing on repeat for a while now. Once more he picked up some documents and his eyes read the page a few times over.
"Will I really do right on this..?"
He muttered under his breath as he would place the file down once more on his desk. Crossing his arms he would think once more.
" I think I will do right on this..."
He said as he would go through the requirements once more. "Excuse me.." He would peek his head outside of his office to catch a nurse passing by. "
Have you seen Hikaru-chan anywhere near?"
He asked and got a shrug from the nurse. He would scratch the back of his head.
'That is true... they have been rather busy with their own patients and service rounds. Hmm... Plan B...
'
His hands would wave a few handsigns before in a puff of cloud a contract emerged.
"Sai, good to see you again."
The calm in Nao's voice spoke so much for Excursai who had been him multiple lives.
"Glad to see you are doing better, still troubles?"
" That is just from time to time... Luckily nothing to severe anymore. I hope it will go, I honestly feel a lot better."
He would smile soft and warm and even Sai could see how it was going.
With a small bow Sai would take off towards the place where Hikaru would be. Once upon arrival Sai would make a bow with his wings including.
"Hikaru-chan."
Sai would start to get her attention even further.
"Nao-san is asking if you could meet him in the office once you have the time."
Nao would never make it an urgent thing when it wasn't even needed, he would let his staff get to him in the time of day that they had a open spot ni their agenda.
"He will be in and around his office, so either in his office or in the back having a sigarrete break."
He would comment before waiting on an answer of HIkaru and flying off back to Nao to give word.
ooc said:

This is a topic for when Nao has been almost cured of his illness, so this is after the storyline with Keiji.
Topic for Hikaru.

This has been typed from a work PC, sorry for the problems in grammar. Please poke me if anything is odd.