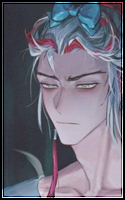 Well-Known Member

NPC Izumi Speech
Thought

Jinchu spirit

Speech
Thought

​

It was a nasty morning for this kid. He had been stumbling into things as he was still half asleep. Yet after fixing himself a breakfast of.. decent cooking he went to leave the Uchiha household to start training... and as he knew he had at least some strenght, he had figured it was best to train somewhere that wasn't a onehoudred percent safe.



"The forest of death huh..."

He muttered and tilted his head a little. He grabbed a kunai from out of his pouch as he walked into the forest. He really wanted to practice around the place along with his new found view. It was like he saw nothing, but at the same time he saw silhouettes of everything that made a sound, and everything did made a sound. "I think you will do fine kiddo."

". . ."

As usual the boy didn't talk back in speech. 'I hope you are right...' "Think of it like a bat... you make sound it will bounce off so you can actually see more."

'That requires me to make noise!'

"To be honest, a good voice, now start using it!'



A visible sigh was given as he started to walk again and climbing trees. All the chakra output and everything had changed.. the fact he couldn't shoot an arrow like he used to do was still odd... and he was heavily throwing over his own abilities to get used to Ninjutsu then Taijutsu. Once he met one of the wild live around, he found a good way to deal with them now.

"Sound Bullet, sound style jutsu!"

He never made the handsigns for them, but 8 holes were made in the creature before it fell down with a loud crash, even bringing a tree with it.

"W-oa!!!"

And there he went along with the tree.

Once landed, not so gracefully on the ground he figured what the main problem was... Couldn't guess the depth right.

"That.. hurts..."

The boy said, sitting in an upright position havin a hand on his back. 'Told you so.'

"Told you so my @!#!"

Izumi scolded out loud for the first time to his Jinchuuriki spirit inside of him.
[Topic Entered with NPC Izumi]
Topic for Haku Yuki