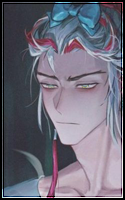 Well-Known Member

A week had passed since their meeting in Nao's office. He finally had some time to learn Keiji and figure out how this herbal gardening worked. It was a day before that the two would schedule a meeting. A proper time was needed as to not pull away from their work.
Nao would stand outside waiting, dressed in rather casual clothing that could dirty up if needed. Basically simple long jeans with side pockets, a long black shirt that did sit tight over his upper body, a bit displaying the muscles he had. The sleeves were rolled up as he had already been doing some work in and around the garden. His sennin coat was hanging inside on a hanger. He started to lean against the glass building he would reach into his pocket, slowly pulling out a pack of smokes. The outside definitely had seen better days, as the package had been looking like it had been soaking up water, been laying somewhere with food stains... But Nao didn't smoke high brands, just the cheapest version there was really. As he took a smoke out he would place them between his lips. First trying to light lucifer outside. The first one quickly died out, the second one didn't even want to light up... It annoyed Nao, to say the least, so in the end, he made a single jutsu seal for a flame in the palm of his hand. He hated using unnecessary chakra... but at this point, he wanted a smoke and now, without lighting it inside to walk outside.
He took a breath and exhaled the smoke again, the nicotine was something he sometimes could miss, but at times it gave him a moment to distress and clear out his head again. Anticipating now more than ever to teach the secrets of the herbal remedies he wished to pass on to someone. Inhaling again, eyes searching the road for his quarry to come.
OOC said:

WC: 326
TWC: 326 / 1500
Please post in less than 7 days after my post.
Tutor for Keiji.