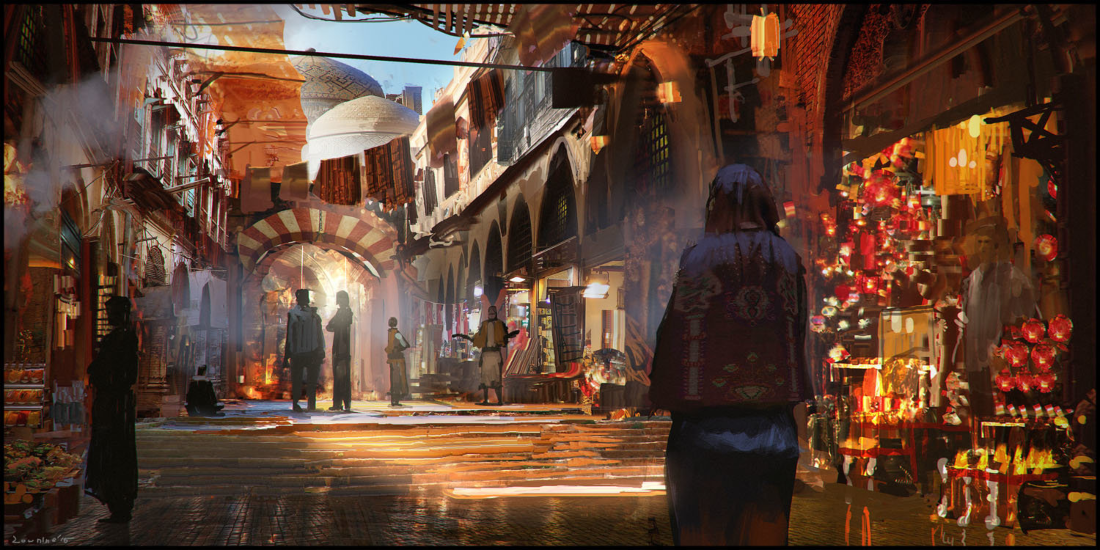 ​
Unexpectedly buzzing and crowded, the foreign district brought her own village's to memory—with cooler temperatures, of course. The traveler's nostrils inhaled wafts of exotic cuisine, spices, and produce from prosperous bazaar stalls. Enthusiastic as she'd been to sample it all to heart's content, the Kumogakurian reminded herself the funds weren't unlimited. Of no shortage of wealth at home—a traveler's purse could only hold so many coins: And, without work—wouldn't find itself magically refilled.

Should prob find somethin' temporary, the kunoichi reminded herself, drawing another drag of the local cigarette into her lungs. Its contents proved stronger than what she'd typically purchase from home—whether legally or not, she wouldn't know. As the trader selling them hadn't appeared associated with any official franchise: simply a middle-aged male running a stall. Nonetheless—cigarettes were cigarettes. He'd made a sale, and she'd received her money's worth—both trader and customer satisfied. Couldn't find the harm in that. There proved graver matters in this depraved world, after all, than scrutiny into nicotine content. Her latest venture clearly reminded of that. Siu was just glad to find somewhere to replenish stock afore her final smoke. The withdrawal experience for someone as dependent as her, inhaling smoke like fish breathed water—she'd not want to imagine.
Almond hues observed native residents carry on about daily activities. Whilst something few might regard amazing, somehow, happenings in places unfamiliar seemed to arouse greater intrigue; where even sensations of nature's breeze felt new: the variation of its taste compared to home's—a fresh experience.
A hand reached for her back pocket, rummaging a moment; the silver timepiece withdrawing. 'Timepiece' proved an accurate descriptor; given the object now hardly resembled its original identity as a watch: Devoid of a strap, with both hands miraculously maintaining function behind terribly cracked glass.

"Little late, ain't they?" Less that timepiece did, in fact, finally prove dysfunctional.

Unprofessional, but Siu figured much couldn't be expected from, well—unprofessionals. Still, if she'd paid her money, there should've been regarded some degree of punctuality. Others might say the yen could've been better spent elsewhere—like a fine restaurant or night in fancy accommodation. Yet, the traveler understood natives would always bear greater knowledge of home than any foreign eyes could ever presume by sight or gather through books.
The ones to lead this supposed 'Sunagakure Tour', she'd hold not a clue. As arrangements had been made by some teen distributing flyers; which in truth, in itself proved sketchy. It wouldn't have been the first time Siu's intrigue got the best of her—nor her coin purse. Yet, her only answer proved to continue waiting . . . And waiting . . . And waiting.
WC: 440
Post: 1/5
Total WC: 440