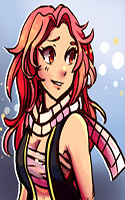 Member

Taba had received a rather strange letter via a masked courier the day before telling her to report to somewhere, she obviously had never been before. Looking down a dark set of stairs the led deep into the mountain Okutaba let out a loud gulp as she started to descend down the dark staircase that was on the faded map that had come with the letter she had received.
"Hmmm I wonder who would come to a dark place like this"
she said softly as suddenly the entire staircase was filled with wondrous light that seemed to make the passageway glow.
A few masked figures walked past her
"Uhh Excuse me Im looking for a Mr....Saito Do you know where I can find him?"
She asked them only to have one of them pulls the other upwards towards the entrance.
"Jeeze you guys arent very talkative are you!"
She said loudly as a hooded figure sitting on a chair nearby spoke in a deep mysterious tone.
"You should be able to find Mr Saito in his office"
the hooded figure said pointing down the hall to the left.
"Uhh thank you"
Taba said as she looks down the hallway and sees a fairly fantastic office at the end.
"Hello Mr Saito? Are you in here? I got your..Um letter"
She said noticing there was no one in the room.