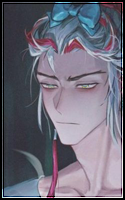 Well-Known Member

It wasn't even that early… but the way that his contract woke him up he knew he slept past the point that he wanted.
"Morning…"
he would sound groggy and Sai would wave silently towards him. Through the connection they were sharing, he already knew how Nao was really doing.
"Take it easy today… Or nap in between like usual."
"Cannot do that right now… I have a tutor planned... and of course, the regular work is still there.."
He would start to clear the sleep out of his eyes before getting out of bed. He started with a shower and brushing his teeth before he would go to the kitchen. There he would start to grab a glass of water. Pop a piece of bread in a toaster and get smoke up. Sitting on the veranda he would think to himself and a bit out loud towards his kami.
Slowly he would get moving and started to prepare a rather simple breakfast, a toast with some butter smacked onto it before he would move towards the door.
"I'll be going…"
Nearing the Byoin he went ahead and sent his Kami to the school, it was the last moment changes in the location of the tutor... Because he was wondering about some answers himself about something.
Once the child would report to the location in the academy, the Kami would greet him. Having white hairs and wings unfolded.
"You must be... Za..?"
he started out and then nod towards the other in confirmation.
"Alright, please follow me. The location has changed.. Mainly due to the fact we ran out of frogs... So Nao has a different plan to teach you in."
[MFT: 281]
[TWC: 281/1500]
[1 / 5 ]
[tutor for Za]